Music From Mathematics, 2010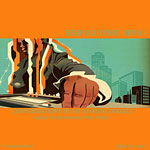 Jamal's latest album is a limited-edition CD-R available from Dope Jams in New York and Clone Records in Holland. These tracks are lengthy (most clocking in around eight minutes), but spare. On "Analog Conversations," a heavy kick drum and militant, industrial snares dominate a delicate synthesizer line. "Conversations Dialect" is almost maddeningly random, its bleeps like a sixties sci-fi computer spinning out of control. "Analog Dialect" is atonal and abstract with a beat that's pushed to distortion.
My favorite track, "In Dialect," sounds like it is constantly picking up speed. Ethereal electronic strings play slightly off-tempo. An alarm buzzes in the background until rattles, scrapes, and other construction sounds build. "In Conversations" and "Dialect Analog" sound familiar, like alternate takes from a previous EP. "In Analog" starts out with an early nineties Warp Records sound before murky bass tones and off-kilter treble squiggles assault the ear. "Dialect Conversations" is a departure for Jamal, with muttered sexual phrases over a playful rhythm. Jamal assures me he didn't record real love-making. Either way, it makes for a fun track. This is gritty, lo-fi music from the heart of a man who has dedicated his life to it.