Ad Noiseam, 2008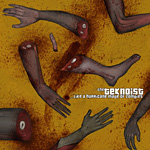 Like a Hurricane Made of Zombies, Mike The Teknoist's first full-length after a few releases on the likes of Planet Mu, Cock Rock Disco, Peace Off, and Deathchant, is the sound of a beautiful and menacing gabber-hardcore-breakcore chimera, or what I would call breakcore that is pleasant to the ears of drum and bass raver heads. This sounds deep and powerful, not exactly like a hurricane made of zombies, more like a tsunami made of ketamine.
It's all about the atmosphere and the bigger-than-the-state-of-Texas kicks. But The Teknoist also has a really good ear for the perfectly sequenced cinematic sample (is it a Gladiator sample that we hear on "Have You Seen?") and the surprisingly funky heavy-metal chopping (see "Full Metal Teknoist").
All in all, this is pretty well-executed hardcore drum and bass with a twist or two, better enjoyed on a kick-ass sound system (with a good subwoofer).