Om, 2006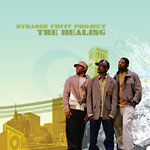 Strange Fruit Project are three MCs from Waco, Texas: Myone, Myth, and Symbolyc One (aka S1). Their previous releases have been on rather obscure labels, but they're finally getting bigger promotion (and collaborations) courtesy of Om. The first thing I noticed about this LP was the incredibly smooth, soulful production by S1. Big-name producers Illmind, 9th Wonder, Jake One, and Vitamin D contribute a handful of tracks as well.
The rhymes are nice, with smooth flows and smart (non-controversial) lyrics. "Ready Forum" is an introduction rap. Speedy, articulate verses drop pop culture references left and right. The romantic "You (The Only Ones)" has a catchy hook with piano and a sped-up vocal. On "Under Pressure" a faux-English accent leads up to horn stabs and bass bumps. "Liberation" features R&B vocals by Tony, while Erykah Badu contributes to "Get Live." Both tracks are rather poppy. My favorite track is actually "Special." Thesis' chorus is catchy, and 9th Wonder provides sweet breaks and scratching.
Despite this group's emotionally charged name, their lyrics aren't particularly "conscious." Most of the tracks are club-friendly, either for a dancefloor or a chill-out lounge. Nevertheless, smart raps and jazzy production help retain an underground feel. There are some fun cuts here.