Warp, 2001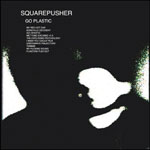 Tom finally gave his listeners what they wanted—another wicked drum and bass record. Go Plastic returns to the meticulously programmed snare rolls that made Squarepusher a household name. (Well, not quite.) Still, Jenkinson's excursions in jazz fusion are echoed here, making these tracks rich with reverb and wankery. "My Red Hot Car" is the closest Tom will ever come to a pop track. The LP version's a bit more chopped-up than the single. "Boneville Occident" is almost overwhelming with a dozen tracks' worth of sounds and melodies that sort of blow-up at the end. "Go! Spastic" is more cohesive, with blurby little synths emerging from the breakbeats. The bit around the two-minute mark sounds like two jazz musicians playing off each other. I wish Tom had built an entire track around that idea.
"The Exploding Psychology" is probably this album's most melodic track, especially when the beats calm towards the end. "I Wish You Could Talk" is my favorite track, with a catchy build-up reminiscent of Squarepusher's Port Rhombus days. "Greenways Trajectory" seems a bit muddled to me, and the ending's pure sonic torture. "My Fucking Sound" seems like a rehash of earlier tracks. Thankfully, "Plaistow Flex Out" concludes the album on a mellow, melodic note. It's a welcome respite from shouted samples and bursts of noise.
Listening through Go Plastic, it's easy to overdose on the whole snare rush sound. Nonetheless, there's some really nice sections buried in the layers. This is an album that will take quite a few listens to fully appreciate. It's worth the effort.