Ostgut Tonträger, 2008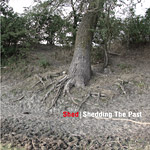 Shed's first full-length comes out the beginning of September, but since I've seen it mentioned on a few blogs already, I thought I'd give it an early review. Shed already made a name for himself through a series of Detroit-inspired 12-inches issued on his own label, Soloaction. As this title punningly implies, he is expanding his sound, embracing everything from minimal techno to mellow, well, techno. In its breath and purity, this album reminds me of Kenny Larkin's early work.
"Boose-Sweep" is a slow-builder. Watery synths interact with a leaky gasket over dry beats and a square bassline. "Another Wedged Chicken," with huge bass under clapped percussion, seems too minimal to me. The beginning of "Flat Axe" reminds me of Musik-era Plastikman, until Shed gradually builds rhythms of increasing complexity.
"The Lower Upside Down" is a sweetly sad late-night track. It begins with squelches and deep bass. As it develops, synths move in half-time and bleeps echo through space. Without a doubt, it's my favorite track here. While "Slow Motion Replay" starts with mellow piano, industrial rattles and snare-like rushes lend an IDM feel. It seems a bit too long, however.
After a bizarre vocal introduction appended to the previous track, "That Beats Everything!" is heavy, dark, and percussive in the tradition of Downwards. "ITHAW" seems like a chilled version of "Kinky Dudes" from Shed's last single. "Estrange" wraps things up nicely with intelligence. AFX synths reverberate, snares rattle, and atonal buzzes swell.
This is one of those albums that's right on the cusp of five stars. I know I'll enjoy it for years go come, but some of these tracks leave me with questions. Where will Shed go from here?