Redbud, 2006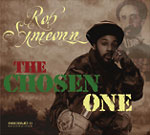 Rob Symeonn is a talented roots vocalist, and on this new album he teams up with some incredible musicians. Most of the tracks were produced by Noel Alphonso or Mikey Assassin.
"Chosen One" is the first hit single, with Symeonn philosophizing over a deep riddim. "Empress" is an up-tempo love song with saxophone and a bouncy beat. (There's a bonus instrumental version too.) "Best Friend" features Junior Kelly deejaying Rasta Far I's praises. On "Good Over Evil," Symeonn sings, "Stop your fusses and stop your fights…." "Cold Outside" contrasts playful keyboard with Symeonn's tale of a homeless man whose "mind is sick." Symeonn concludes, "Have some compassion…. Open your pocket."
The Chosen One is light reggae with a positive message. The bass is strong, but the mix is refreshingly clear and airy. It may be too unrelentingly religious for some listeners, but the production is always top-notch.