Coredump, 2004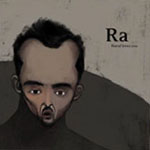 I've been checking out Ra's icons and illustrations for a few years now, but I was surprised to discover his new album on Coredump Records. Raoul Loves You was published this September between releases from well-known artists Proem and Venetian Snares. Though he may not be as well-known (yet), Ra's tracks are top-quality, with rough beats and scratches, melodic samples, and glitchy computer manipulation.
The intro sets the tone with bursts of noise and a hip-hop-inspired groove reminiscent of Prefuse 73. "Ev.panic" provides even more drama with female vocal snippets stuttering in and out over funky synths and filthy percussion. On "Love to Fall Apparts," [sic] slowed-down male vocals drift over a soulful bassline. Beats kick in as the voices get even more distorted and out-of-tune. This gets a bit grating towards the end—I think it would have worked better as a shorter piece. "You'll be @#!" is nicer, with lo-fi jazz samples and timpani forming a simple, repetitive break. Menacing synth pulses take over around the two-minute mark. Next up is "Bad Birds," which combines crow caws and organ over downtempo beats. It's an oddly moving mix, but it should probably be a couple of minutes shorter. "Fudge Brownie Brain" is a great combination of familiar beats, enthusiastic scratching, and melodic electronics. Likewise, "Petit Gilet" is a lush study in chopped-up movie samples over a bass-heavy break.
Although there are some grating cuts, including the ironically titled "Hi Point," which features off-key singing and electric guitar, most of these compositions are inspiring. Ra's music reflects his visual aesthetic—gritty urbanscapes with the occasional uplifting moment. This album should make for good winter listening.