n5MD, 2010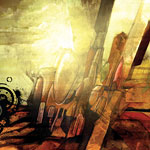 On his eighth full-length (set for August release), Proem's Richard Bailey proves it's still possible to craft fresh IDM. Over the course of fourteen tracks, Bailey pays homage to mid-nineties Warp and Skam, but he does so in his own style with sweet melodies and detailed, confident production.
The brief opening track, "Deep Sleeping Birds" offers dense washes of sound over skittering beats. "Back to Fail" is a bit less abstract, with a hip-hop beat and vibrating, melodic harpsichord that careens between channels. "Guns.Knives.Lemons" is wonderfully messy. A menacing drone and glitching percussion lay the groundwork for a nice deep bassline.
One of the more beautiful tracks here is "Jiittirrrriii." A thick bassline growls and prowls with punctuation of tapped organ keys. "Fall Forward" is bittersweet with acoustic piano over a crisp downtempo beat. It marks a transition to a series of chill-out tracks, including "Kalimbra Jam" and "Enough Conflict." "Skulls" contains processed vocals, but they stay deep in the mix with rhythmic vibraphone and rattling snares. A chorus of sorts is formed when piano appears.
The album goes out with a whimper. "Track 14," as its name suggests, is probably the least distinctive piece here.
Most of the tracks on this full-length are about three minutes long, a fact I actually appreciate. Bailey's use of a more traditional song length (throughout his career) helps me focus on his complex compositions without feeling overwhelmed.
This album encompasses a variety of moods. The first third is dense and glitchy—a great soundtrack for staring at a computer terminal. The rest is calm and relaxing—perfect for afternoon reading in a cool summer breeze. These days albums displaying such digital virtuosity are few and far between. I guess it should come as no surprise after ten years of music-making, but Proem is now an accomplished artist.