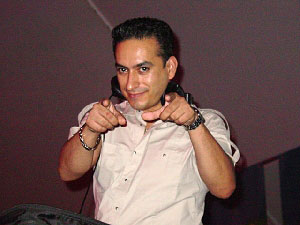 Martin "Boogieman" Luna (43) has been a club DJ since he was fifteen. He spins nearly every night around Chicago at clubs like Sky, The Coach House, Crossroads, and The Joynt. Luna worked for D.J. International and Quantum Distributors in the eighties, recording his own singles as Mix Masters. This culminated in an underground hit, "In the Mix," featured in Madonna's Truth or Dare.
In his career as a hard-working Chicago jock, Luna DJed and guest mixed for WGCI and WBMX. While they haven't received the acclaim of Ron Hardy and Frankie Knuckles (who captured the imagination of Europe's music journalists), Chicago's radio DJs reached millions more listeners, inspiring producers not just in Chicago but in Detroit as well.
When I spoke with Luna by phone May 2, he revealed the size and diversity of Chicago's dance scene. Luna hosted the "Street Mix" music video TV show in 1990, reported charts to Billboard Magazine, and spun for clients like Playboy Enterprises. He is currently working on new music for a re-launched D.J. International.
Jacob: What part of Chicago did you grow up in?
Martin: I grew up in the South Side of Chicago.
You moved to Texas?
When I was between the age of nine and fifteen, I lived between Texas and Chicago, primarily seasonal with the school years. My parents had property over there, and we had our house over here too.
What types of things did you listen to growing up?
I grew up with a very diverse family as far as music was concerned. My family had Motown, seventies funk, all the old American Bandstand, and of course Soul Train. Also, [with] my Latin heritage, I had relatives that also listened to all types of Latin music. It was really all over the board. I had friends who listened to rock.
Tell me how you started DJing.
As I said, I was back and forth from Texas. This was when I permanently came back. I got invited to go out to a party with a friend… [and we got separated]. I decided to take directions from some friends, and that included taking a CTA bus. When I step out the club, in my Texas gear, still, which is baggy pants and a dress shirt with suspenders, a zoot tie, and Stacy Adams on the feet. I'm looking at this bus down the block rolling toward the next stop that I'm going to have to run to. I decided to go ahead and run in those shoes and everything else, and I actually made it to the corner in time.
At the very next stop, these three guys get on the bus, and they scope me out, ask me where I was from and all of that…. They asked if I wanted to go to the party with them, 'cause they can get in for free—they don't pay—they're DJs…. During this party I found out there was a confrontation going down, and I was there backing them up…. After things calmed down… I had to leave, so I lent them my knife that I had.
A few days after, I met up with them at the basement where they practiced. Next thing you know, they took me in really quick as a friend… and I ended up helping them with roadie stuff and being a light man for them. After practicing around and letting me mess with their equipment for those few months, I got challenged by another guy who was DJing for two years already…. I accepted his challenge, and went at it, and I beat him. That was my big jump start.
What year was that?
That was 1982.
When you started DJing, where did you play?
When I started DJing, back then, hall parties were very popular. They used to rent bars around the area where I was at, like Union Hall, Patriotic Hall, the MCC Hall. There were hall parties every other week, if not every week. It was a normal thing, so that's where I got my experience. Then finally, during the first year when I was fifteen, turning sixteen or so, there was a neighborhood place called Dennys Two, 93rd and Commercial, where S. Chicago crosses, and it was a twenty-one and over place with a bar and a small dance floor. I guess because of neighborhood connections… we were able to DJ there even though I was underage, so that was where I got my first actual mini-club experience as a DJ.
What kinds of things were you playing?
Back then, stuff was hitting like "Don't You Want Me Baby" [The] Human League, Yazoo "Situation," anything from [The] S.O.S. Band, you know, "Take Your Time," stuff like Cameo, Zapp, Earth, Wind & Fire, GQ "Disco Nights," "Can You Move" Modern Romance—of course Rick James, Michael Jackson—those were a must as always. We kind of went all over the board.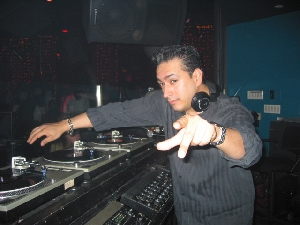 When did you start spinning at Prime & Tender?
I'd have to say that was probably around '84, '85. That was my big break, because that was an established, big club.
How did you get that residency?
I was only DJing in the South Side of Chicago, and during that time I had earned myself spots at nightclubs on the North Side, Indiana, the outer suburbs all the way out to Elgin, to Schaumburg, to Addison, to the opposite suburbs like Blue Island. I had earned a lot of followers. It was something that was important back then, that you had a following, and I earned that because of my popular DJing ways, I guess. It was one of those teen clubs, and there was only a few teen clubs back then, besides when the Rainbow came out—that was one major teen club besides Dilligaf's, so I'd go there, being that I could get in there, and I ended up getting a guest spot…. Around a year later or so, I was just turning seventeen, I was DJing at their twenty-one and over parties on Thursdays. I ended up DJing three, four nights a week there after that year.
Who were some of the other DJs who were influential at the time?
There was only five, and that was the Hot Mix 5. Kenny "Jammin" Jason, Ralphi "Rockin" Rosario, Farley "Funkin" Keith, Scott "Smokin" Silz, and Mickey "Mixin" Oliver. Outside of the guys that taught me, that's where I got a lot of my traits, a lot of my styles—I kind of combined them all.
When did you start spinning on the radio?
I probably started doing radio around '89. I was introduced to college radio on WCRX, 88.1 FM. At the same time I used to go across from that to WCYC, 90.5. But I was primarily heard on WCRX. That was my big kick-off on the radio. I got introduced to that with Harry B., Harry "The Blade," and then Carrie Cortinas, which were on-air hosts at that time. After that I got discovered by Armando Rivera and Steven Ross the M.D. [music director] at WCGI when they heard me at Shelter. I was DJing in the main room at Shelter Saturday nights, and they scooped me up from there to do the radio show on GCI.
GCI was a big deal, because that was right after the WBMX Hot Mix 5 had just gone to GCI. They left BMX, and BMX restarted their whole radio team. The Hot Mix 5 was the ones everybody was following in Chicago. When they went to GCI, I also did guest mixes for Ralphi's show.
Were those live mixes?
No, none of them were live mixes. BMX back in the day was not live. Everything was pre-recorded on reel to reel.
Were different parts of Chicago playing different dance music?
Not really. I couldn't be everywhere to say that one-hundred percent, but from what I remember—I did parties everywhere, from the suburbs to south, north, Indiana, and everywhere else—you couldn't just play one type of music. Chicago was so diverse. You were playing The Police right next to Harry Melvin and The Blue Notes next to The O'Jays next to Michael Jackson next to Afrika Bambaataa next to Lime, imports like that, Divine—it was just all over the board. You couldn't really pin what was going to be somewhere unless it was still stuck in the disco retro thing. Some clubs still stood with that, they wouldn't play anything else but that.
When did you start producing your own tracks?
Around '87. That's when I was messing around in the studios and sorting things. I had a friend back then, Joey "Jammin" Diaz, which was a DJ partner of mine. He owned a keyboard and things like that and a 909 beatbox. We used to do stuff in his basement. We created some tracks here and there, and we ended up coming up with this thing called "House Express" by the Mix Masters. We just carried over our DJ company name and put it on the label as our artist name.
So the first few Mix Masters releases were collaborative, but it later became your solo moniker?
Yeah, the first one was done by myself, Joey "Jammin" Diaz, who was basically the programmer, and the keyboard player was Lou Sparano.
Were people playing with drum machines in clubs back then too?
Yeah, we used to take the drum machines and do live sets with beats. Back then, too, some of the DJs used to take reel to reels with them and play a track and loop that reel or have a continuous recording of a beat that they wanted to mix over so it sounded like you were mixing three turntables at one time. That's why we'd take the beatbox and have the 909. Because it never skipped a beat, it was just a good ground of music to go over.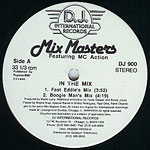 "In the Mix" was your biggest hit?
Yeah, "In the Mix" was definitely my world-wide recognition record, there. It was already getting world-wide recognition before Madonna picked it up for Truth or Dare and In Bed with Madonna [the export version]. It was really considered a club anthem in New York and over in the UK. People, they had to play that record. On the odd side, they were playing the actual "House Version." There was a "Powerhouse Version" that was more popular in Chicago. That version was not used in the Madonna movie. That was the big hit for me, and still is.
It's been sampled by everybody. RuPaul… the people behind him, when they did "Supermodel," that record [has] "In the Mix" written all over it. Black Box came out with a total remix medley of all their records combined, and the first two minutes or so of the compilation starts with my record, no changes, my record raw. D Mob, they took one of my records, "Pump It Up Homeboy," and they sampled it in their version. Danzel used it for his record "Pump It Up," which got a gold record. It's gotten picked up by Ministry of Sound and other national-level type record labels. Recently Roger Sanchez sampled it in one of his records on Stealth Records…. Holy Noise took one of my records…. "In the Mix" has been widely sampled everywhere.
The "gotta get up" part was from "Love Sensation"?
Yeah, that was the old Loleatta Holloway. That's what happened, I think with Black Box, I think they tried to slap me back in the face or something, thinking like if I stole it from them…. They were thinking they had the right to do that…. There's also my voice in there, 'cause I'm the one who did the words, "in the mix" 'cause I couldn't find a clean version at the time, without cracking in it, to sample "in the mix" from "Last Night a DJ Saved My Life" by Indeep.
How do you feel about how the history of house music has been told?
A lot of people try to take credit where it's not even due to them. Even myself, I sometimes have to be reminded I was a part of the whole thing too. I guess the sad part is that every time somebody in Chicago, and this is probably nine out of ten people, want to tell their story, they exclude other people. They only want to include their part of Chicago they were from or something…. say for instance the popular Black clubs back then, the DJs that were doing that that were around Farley Keith. Farley was far more successful on a wide basis than Frankie Knuckles. Frankie came to Chicago, and basically he got his notoriety because of us.
If it was somebody who was going to the old Warehouse club or to AKA['s] or The Playground or whatever Farley was playing at the time back in that day, these guys that were young like me, fifteen to seventeen, eighteen, growing up back then, not even DJing around these guys, that's all they talk about—where they were at. On the other side of the coin, you've got guys like me, I came out of a Latin heritage and white people at the clubs, and out of that Caucasian/Latin market that I was around, we always gave credit to the Black part of it, believe it or not. There's artists that are Black, white, Latin, that all were part of this whole thing. Look at WBMX. There was only one Black person there, that was Farley. The rest of the guys were Latin and white.
What do you consider to be the first house record?
That was "Music Is the Key" by J.M. Silk. I remember playing that; I remember getting it; I remember, like, Wow, this is different.
Where's the craziest place you've spun?
I always remember spinning at the Mars club in New York. It was in a meat market. I'll never forget driving up to the thing with the taxi. I had a specialty case back then that held maybe two-hundred records in one single case with a lock, and felt-covered. Me and my friend… we almost thought that this was a joke, it was a set-up or something…. You walked in this place and it was fucking amazing…. I never seen a club with so many speakers…. They even had three sound guys on site…. It was such a mixed crowd I had never seen. It was like white, Latin, Asian, Black. There was no barriers. There were people in Armani suits and right next to them was somebody in hip-hop gear, and it was cool. I had never seen that.