Disko B, 2007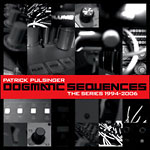 This is a collection of three ground-breaking EPs Pulsinger composed over a period of twelve years. The music ranges from hard acid and techno to future jazz. "Agom Drag," [sic] from the first EP is a perfect example of mid-nineties acid, with helicoptering synths over heavy kick-drum. "Numb Thrust" from the third EP adds twenty-first century distortion and gurgles. "Babylon 17, 15" has a fierce square bassline accented with snares. Moody synths pull the track even darker.
"Transforming Language" provides the perfect jazzy interlude with Squarepusher-like fusion. "Rouleur," also from the third EP, has more of a tech-house feel with a rubbery bassline and batty treble.
Pulsinger saves the best for last. The four cuts from his second EP, licensed to R & S, are bonafide classics. "Construction Tool" is a wonderful morphing rhythm track. At one point 303 squelches bubble to the surface. "Citylights (Pt. 2)" (aka "City of Starsigns"), a collaboration with Richard Dorfmeister, sounds like it could have inspired a half dozen Ninja Tune artists. Finally, "Viagem" is a return to hypnotic, warped acid.
The variety of styles might scare off some listeners, but this collection is worth some patience. I like the 1994 techno parts best. The newer tracks are just a fun bonus to finally getting these classics on CD.