Soot, 2004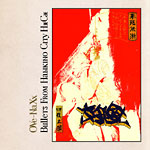 "For anybody with pain," reads the dedication on this eight-track, thirty-minute album by Osaka's Isao Sano.
An amalgamation of samples from sources as diverse as koto, North-American and Japanese hip-hop, ragga, squeezed heavy metal chords, very distorted breaks, video game synths, dirty as hell basslines, and precise, brutal, sometimes minimal (as in the amazing Warte) beat programming, the OVe-NaXx sound distills, in his most polished moments, a worldly, if freaked-out, atmosphere. That the album is released on DJ Rupture's Soot Records label is not a coincidence.
Selected by none other than John Peel for his radio show, Bullets from Habikino City HxCx is a formidable presentation for this artist, and anyone interested in (if a little bit tired of) the breakcore scene should keep their ears open for future efforts by this musician steeped in the long and strong Tokyo hardcore tradition.
Whether you're in pain or not, this is definitely a very palatable album.