Emphasis Recordings, 2012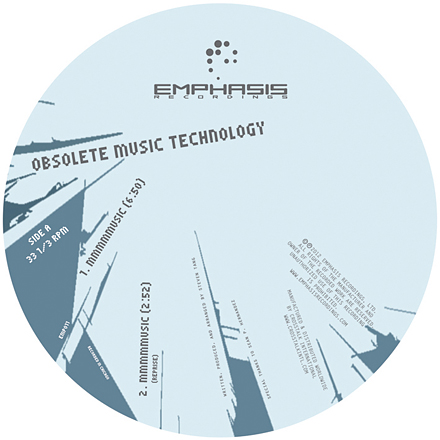 Steven Tang's latest single reminds me of the good old days of melodic Detroit techno. On the original mix, looped vocals burble while slow strings glide. This piece would not have sounded out of place on an old Rhythim Is Rhythim EP. The "Reprise" version removes both beats and vocals, but adds a classic, spacey synthline.
The B-side, "Distance," uses similarly sweet analogue sounds, though the treble line strikes me as overly simple. I keep waiting for a new synth-line or a touch of improvisation to tie in the low strings.
Rounding out the EP is "Chicago Skyway's Pay Toll Mix" of "Mmmmmusic." Sean Hernandez drapes a veil over the vocal loop, then pounds out an old-school Chicago-style house beat. I almost expect Robert Owens to break into song. The lo-fi drum break two-thirds of the way through is my favorite part.
This is only Tang's fourth Obsolete Music Technology EP in five years, but you can't fault the man for his strict quality control. At least I know each dispatch is equally essential.