Partehardy, 2007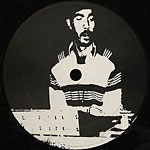 The DJ edit helped transform disco to house, but unfortunately, documentation of these reel-to-reel razorblade masterpieces is fairly scarce. There's the occasional bootleg mp3 copied from an old tape and posted to deephousepage.com, but actual compilations are few and far between. (Danny Krivit's Edits By Mr. K on Strut is essential.) Healthy competition between Frankie Knuckles and Ron Hardy in Chicago led both to become masters of the edit, but Hardy's were way more radical. His reels were scattered after his untimely death, but Hardy's nephew is helping to resurrect the legend with a series of promo-only vinyl issues copied from some of the original tapes.
The pinnacle of disco editing is Ron Hardy's take on Walter Gibbons mix of "Let No Man Put Asunder" by First Choice. This tune was already a house anthem, yet Hardy transformed it entirely, chopping it into sections as short as a second and repeating vocal snippets more than a dozen times in a row. The rap stutters into gritty punctuation, the phrases "aw shucks" and "baby, baby-baby" becoming a magical chant. As far as I'm concerned, this is the greatest dance track of all time.
Volume three's B-side is almost as coveted. Hardy pieced together The Dells' "No Way Back" into the ghost of a funk track, the break looped to the breaking point. (Theo Parrish recently paid tribute with an Ugly Edit.) Unfortunately the sound quality does no justice to this one, lending a certain muddiness. Still, these edits show why Adonis described Ron Hardy's sets as "spiritual." Hardy heard these tracks as no one else did, spinning their components repetitively for his fellow music junkies until they screamed his name.