EV, 2006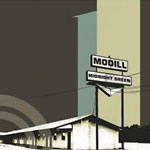 Chicago-based Modill have a fresh sound, thanks to creative raps by Racecar and inventive production by funk drummer K-Kruz. K-Kruz has produced for Diverse, and he already has a collection of remixes under his belt. Racecar's conversational, smooth style is well-served by the cutting-edge beats.
Right from the "Intro," you can tell this isn't a typical rap album. It opens with a sample that may be from This is Spinal Tap. Then a funk break kicks in, and K-Kruz doubles up the beat with scratching over top. On "Bigger Cents," Racecar waxes philosophical over a chopped-up guitar lick. (He riffs off the theme of being "desperate to live life.") On "Got It (Good)" Verb T joins Racecar over some jazzy organ bits. Another favorite is "Moves" featuring Truth E.N.O.L.A. and Thaione Davis. Crackling vinyl and scratches accompany verses on the state of rap music. "Bushed" asks how to stay positive under a government you disagree with. From "ballot counts" to "secret intelligence," Racecar drops some heavy rhymes.
"Vacant Rhymes" features Dave (Plug Two) from De La Soul over a thick bassline with a chorus inspired by "The Message." I wish it were twice as long! On "Touchdown," K-Kruz throws the most unusual elements together to make an uplifting, soulful track. I hope it gets released as a single, since I'd love to play with an instrumental version. Diverse guests on "Change Form!" The chorus is almost buried by a wall of horns.
Bleeps and rolling bass help "Space" stand out. I love Racecar's lyrics on "Send Me to Bliss": "Man I'm pissed,/first because this pen don't work/so if I can't read my rhymes/cuz I'm goin' berzerk./Secondly, there's nothing good on this TV/variations of the same old shit since '93./Thirdly, the radio don't hold much more hope/'cause hip-hop is more biz/and much more soap." It's unusual these days to find an album with so many single-worthy tracks and so few gimmicks. Midnight Green is solid from start to finish.