FXHE, 2006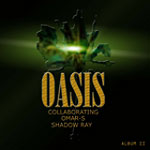 For the past couple of years, Omar-S has issued an amazing series of 12-inches on his own Detroit label, FXHE. These are records that straddle the narrow divide between techno and house, with analogue minimalism reminiscent of Basic Channel. Omar's side-project is a series of collaborations with Shadow Ray. So far there are only two singles in the series: "Track 1" and "Track 14." Two albums chronicle tracks one through twenty-five.
Album II warns, "This album contains the Motown minimal sound. The revolution will not be digitized." It begins with "Track 15." Plaintive squelches frame a simple house beat. A grab-bag of synth sounds include keyboards and static wind. "Track 17" builds over an analogue bassline. Clap percussion and spacey sounds weave in and out. There's also an unreleased version of the hit "Track 14." Synth stabs and ever-changing beats make for a brutal dance track. Likewise, "Track 20" has a sophisticated beat, with lots of blips and TR-808 sounds.
"Track 21" is simpler, with a heavy kick drum and simple keyboard phrases. Deep sub-bass kicks in at the end. "Track 22" sounds remarkably like Plastikman's "Spastik" except for the addition of orchestral synth strings and syncopated treble accents. These elements never really gel. "Track 23" is more successful, with subtle acid bleeps over a bare-bones percussion sequence. Finally, "Track 25" is a late-night masterpiece. Synth washes and bass rumbles accumulate over a slowly-building beat.
You can't get much more underground than Omar-S. His 12-inches will likely attain legendary status in the Detroit techno scene. They're already high on Hard Wax's tip sheets (with comparisons to Theo Parrish and Moodymann). There's something incredibly honest and pure about these old-school sounds.