Oktaf, 2009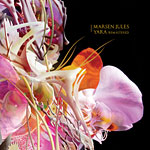 Oktaf has just remastered and re-released Yara by Marsen Jules, both as a CD edition and a digital download. This beautiful music is a timeless, spaceless piece of infinite, deep ambient and drone-scapes, completely reworked and remastered especially for the release on Oktaf. The CD edition will be accompanied by an extremely well-produced and gorgeous artwork by US designer Noah McDonald, who collaborated on a hybrid installation with Santa Fe, New Mexico-based Keep Adding called "Wrekage" [sic] that's featured on Apple's website.
This work is not different from Lazy Sunday Funerals where he tries hard to flood our ears with spacey drones, beautiful harmonies, deep ocean field recordings, and anything in between, above, and below. Here, in tracks like "Yara Variation" or "Yara 02," he has introduced clean guitar chords and flutes to add more beauty to the composition. Some of the tunes are not only drones and ambient pieces but are also carefully crafted compositions combining classical instruments with deep, nice ambient textures. "Yara 06" starts off with a clean grand piano chord on top of an ambient texture of what could be the ocean or just water. Lots of reverb and delay have been used all the way through the tracks, which is actually Jules' mark. This characteristic creates a deep feel to the music and is widely used by ambient artists.
Again, do not expect dark ambient or heavy drones because that's not what the artist is all about. This work is, for me, better composed and produced—more well thought-out, really, than Lazy Sunday Funerals, and it is made for drone heads expecting to chill out (by that I mean sleep and meditate, really). The intention is quite obvious: to transport the listener to the deep realms of the oceans, kiss whales while they are swimming next to you, and amuse yourself with the beauty of the colorful coral reefs while enjoying yourself and relaxing after a boring day at the office, or wherever you work. I think what he is trying to say is, there is beauty in the world and we should not be afraid because moments of deep calm, relaxation, and reflection can be found or induced by people like Marsen Jules. Try to listen to the CD when you have a moment to put your ideas in order and really get to know what is going on in your head. Highly recommended for meditative work.
If you live in a big frenetic city, do remember to take this CD with you and play it on your car while you are in a traffic jam. I am sure your worst nightmares will seem to be really small spots in the blue sky rather than the end of the world.