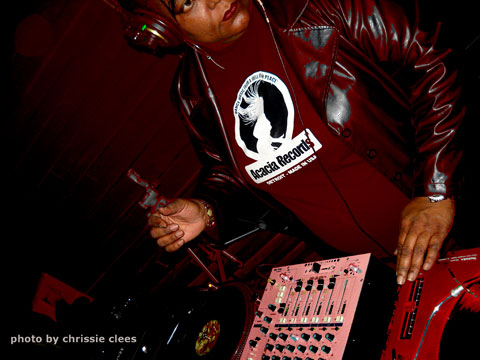 Kelli Hand is a veteran Detroit DJ and producer. She's been making deep, hard tracks since 1990, mainly on her own label Acacia Records. In 2006, she started Gorsch Detroit for her techno productions. I first became aware of Hand's work through appearances on three ground-breaking compilations: Tresor II – Berlin & Detroit (Tresor), Detroit: Beyond The Third Wave (Astralwerks), and Pure Filth (Filth Records). I'm looking forward to hearing her spin at this year's Movement festival. She kindly answered my questions via email.
Jacob: Where did you grow up?
K-Hand: I grew up in Detroit, born and raised.
How did you get into dance music?
I got into dance music traveling to New York frequently with friends—to the Paradise Garage on weekends, and after the club closed for the day I would go to the record shop nearby and buy the records that were played… to take home and mix myself.
What was it like partying at the Garage?
Oh, this club was so huge… not enough words to describe what it was like; you make your own experience within the experience of the club itself, and anybody who went knows what I mean. I am very happy I experienced the best club in the world. It's a legend[ary] club with many stories and memories that will never be forgotten.
What differentiated Larry Levan from other DJs?
Larry Levan was just being himself, and at the time there weren't a lot of great DJs around, just a few (but building). But Larry was one of the few that remixed top artists into club records; he featured his own remixes at the Garage, and would play his favorite, not only the club favorite, throughout the night—meaning more than once. Nobody complained. He lived his life happy, and was very consistent. If Larry wasn't playing the weekend at the Garage, we would all decide not to go, and go the next [weekend] when he's back in. Other DJs that played there [were] Jelly Bean and Timmy Regisford. They were also part of this wonderful history.
What other clubs did you go to back then?
Club Area, not too far from the Garage—that was a hot club as well, in its own way.
When did you start DJing?
After buying all those club hit records, as soon as I got home from the Garage (ahaha). Late '80s, early '90s, just messing around mixing in my bedroom.
Where did you spin?
I spun records at my first resident club in Detroit near Archer Record pressing plant. The name has changed now.
How did you start producing tracks?
As soon as I started my residency, I started making my own records in my home studio, and bringing them to the club to test… [also] making dub plates for the late Ken Collier to test in Club Heaven in Detroit another legend[ary] club worldwide.
When did you decide to start your own label?
As soon as I completed my first record under my alias Etat Solide (which reads in English Solid State), song title "Think About It,"… after talking to various producers and DJs, I had the offer by Jeff Mills to release on UR or Axis, but I wanted to start my own label—see how everything worked and release more records—and having my own label allowed me to do so.
Did you start your label in the UK initially?
Funny you ask this question, and I am happy to answer this and clear up confusion (again). When I first wanted to create a label name, my first thought
was UK House Records. I was thinking internationally; however, I didn't have anybody as a protege or mentor to tell me, hey that's not a good name, people will think you operate out of London or the UK in general. So after the first release of "Think About It" on UK House Records, I figured out this was not a good name for a label, from Detroit especially. I then came up with Acacia, a street name in Detroit that runs throughout the city… a street that I lived on as the cross street. So there it is. The name was changed to correct the confusion immediately to the consumers and fans, and more new releases continued under Acacia thereafter, and UK House Records was a wrap. So now, anybody reading this who has no ideas can use the name, if they like. (If they haven't already!)
What other names did you release under?
Etat Solide, Rhythm Formation (with Claude Young), Queen Mecca, K-HAND, Kelli Hand, Kerohand.
How did Warp Records pick up "Global Warning"?
I sent in a few songs to Warp, as I know the owner and at that time Warp was actually huge, but easier to get a hold of the big shots…. [I] was the first artist from Detroit released on their label, then I saw some others from Detroit who followed…. I see a pattern clear now, that I am a great influence and inspiration to others.
Who are some of your musical influences?
Larry Levan, Marshall Jefferson, Larry Heard, the late Andre Hatcher, and Ken Collier to name a few.
Did you tap into a community of like-minded DJs and producers in Detroit?
Yes, in the beginning, of course, amongst the techno guru[s]—I would always go out and support their events in Detroit. For example, I was there when the Music Institute was being created, and the grand opening, as well. [I] was at the grand opening of the late Ken Collier's Club Heaven, when I didn't see a lot of producers and artists at any of these places who said they were there, which was quite strange to me. Those were the only community-based things around…. Derrick May used to throw events at his own loft. Those were the good old days!
Why do you think there are so few female producers?
Because most do not have the self-confidence to be or do.
The few that I do see making records and DJing, singing, etc. are doing well—actually some appear to be doing better than me, and it's all good—enough space and slices in the pie for everyone. Some, but not all, have a self-confident support group behind the scenes that gives them the caffeine kick that says, "You can do it," that nobody really don't know about on the outside looking in.
And I don't bite my tongue when I do interviews, I tell it like it is. It is what it is. This is what I have seen for two decades now, and still happening. Nowadays, the market is saturating with female producers all over the world. Now whether it's their calling or not, I'm not the one to tell. But I will say it again, the music business is not for everyone….
Were you inspired by any of the records coming out of Chicago?
Most definitely! Chicago is the house music mecca state where house music come from. I remember seeing Frankie Knuckles DJ off Belmont Rocks (the river), when he was not as well-known as now. And I went up to him and told him he was a good DJ, and this was way before I was even in the music business. D.J. International label, Andre Hatchett, Maurice Joshua, DJ Funk, DJ Gant Man, Ron Trent, to name a few, [were] "the ones" to go to listen to and buy records from at the clubs way before the Cajual/Relief record labels were even thought of.
What do you think about the current state of the house and techno music scenes?
I think they are what they are.
What irritates me, though, is some people call techno house, and house techno, and the correct terminology for the genre is not presented correct, worldwide. I am seeing this everywhere, except out of New York and Chicago, where it all started, and Detroit (for techno, of course). My thing is if you don't know what is house and what is techno, please do not categorize or phrase the term. It is confusing the people, the industry, and the world.
What projects do you have coming up?
Too many to mention, and if anybody know[s] me, I really don't post or mention new info. of my releases until [they're] in the distributors' hands or at the shops already. If people find out about a new release coming, then hey, you're in the loop! Stand by….
Note: Kelli Hand passed away August 4, 2021 at the age of 56.