Leonard "Remix" Rroy, 46, was one of the first house DJs, but his name remains obscure, perhaps because he enlisted in the Army just as the scene hit its peak. A few years ago, he reappeared, posting a series of YouTube videos on the history of house music and his apparent invention of the term. Mike Dunn, Farley "Jackmaster" Funk, and Chip E. have all mentioned Rroy as an influence. Rroy is currently serving in Afghanistan, but he was kind enough to answer my questions (in his first interview ever) via email.
Jacob: Where did you grow up?
Leonard: The South Side of Chicago.
How did you get into music?
I've always been into music for as long as I can remember.
Where was the first place you DJed?
Oh wow, the very first place I DJed was a party for my second grade class. I was too shy to dance, but my sister had all the hits on 45, so I brought a load of the newest jams to class and we had a ball. I think that was the initial spark that made me want to play music in front of people.
The first official club I played at was The Bitter End, 7300 S. Cottage Grove, Chicago. It was owned by Lowell Tuff. The club was a juice bar…. That was a good thing because the club did not have to operate under the same time restrictions as clubs with liquor licenses.
What was The Bitter End like inside?
The entrance was a long bar and seating area…. The dancefloor was located to the right of the bar in a separate room. The dance area was all black and the booth was elevated so the DJ could see down…. The speaker system consisted of four Peavey SP 1 speakers and two tweeter systems with four tweeters each mounted in the ceiling facing down. It was all powered by a Peavey CS 800 Amp. The tables were Technics D1s. I brought my own Shure SC35C needles and the mixer was a Teledyne mixer. There was no monitor but the music was loud and clear enough that a monitor was not required.
What kinds of things were you playing?
"One More Round" by Kasso and "Spaticus" by Ian Dury are the two tracks I played back then that were signature tracks saying "Leonard is spinning."
Who was the first person you heard play their own edits?
JJ Kelly of WKKC, a college radio station located near my house. He did skate party edits of James Brown songs—what has become known as JBs.
When did you start making edits?
I started doing edits after I watched JJ Kelly splice up mixes. I got a reel to reel from my friend Cleve and a splice block from Radio Shack and started. I also discovered that I could do edits with a pause button on a cassette deck. A doctored Sanyo tape deck allowed me to do what we called then "pause edits."
What were your favorites?
"Bad Luck" by Harold Melvin and The Bluenotes, "He's a Friend" by Eddie Kendricks, "Midnight Girl" by Lenny Williams, "Inside My Love" by Minnie Riperton, "Let No Man Put Asunder" by First Choice, "Big Freak" by Phreek….
Farley "Jackmaster" Funk said in an interview that you're the first person he heard use the phrase "house music." How did you come up with it?
The term "house" came from my mother. I was playing music in the basement, as normal, and she said "Why don't you try to play some of these old songs and see if your friends like 'em." While playing an edit of "Chance With You" by Brother to Brother at The Bitter End, the owner heard the difference in the song and thought it was an alternate version or remix. When he asked, "What is that?" I said "house music." That term came to mind due to the fact that my mother asked me to try some of the old music from the basement of our house….
I understand you actually put up a sign that read "We play house" and Frankie Knuckles saw it?
Frankie said in a video interview that he was on the South Side of Chicago and went to a small corner bar. There was a sign in the window that said, "We Play House Music." The only thing about his statement that was left out was the name of the bar. I stated that it was The Bitter End for a number of reasons: 1. I did have a sign in the window. 2. It was a club that Frankie would stop into every now and again.
Did you go see Frankie Knuckles spin? What made his parties so influential?
I saw Frankie spin once at The Warehouse, but more at The Power Plant once The Warehouse closed. I remember telling someone, "He's just blending and not scratching… what is so exciting about that?" Then he started working the EQ and the bass blew me away. Frankie was the only DJ I knew of with a system like that and I tell you… a system like the one at The Warehouse made a DJ godlike!
When did you start playing at The Rink Zone?
1982.
Where was it located and what was the capacity?
8920 S. Ashland Ave., Chicago. The Rink Zone held a good seven- to eight-hundred people on the large floor and one-hundred on the small dance floor.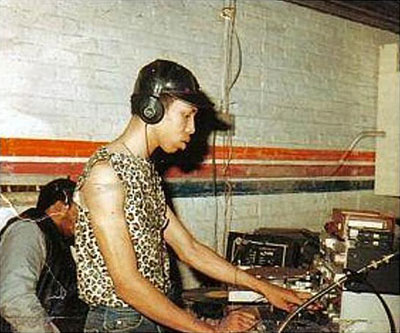 How loud was it?
It was as loud as I could make it. We used a variety of sound men and systems. The place came with two four-foot woofer speakers, a midrange cabinet, and a multi-cell horn on the top of each. The multi-cell horns were mono and powered by a Vox Royal Guardsman guitar amp with the amp turned on bright. The mids and lows were powered by Crown amps. We also had two single scoops laid on their sides at the east and west end of the dance floor. They were powered by Phase Linear amps. There were also two JBL double scoops on the south wall that were powered by Yamaha amps. We wanted as much bass as we could get. The highs were beyond good and it's easy to have loud mids. Bass is always the issue.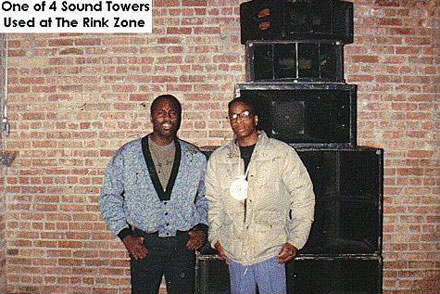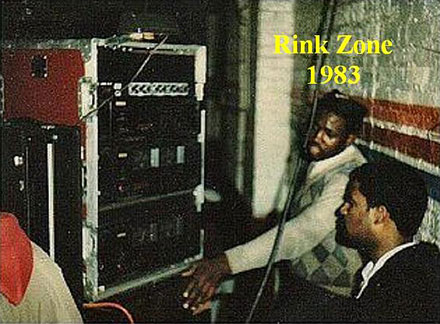 Did people skate to the music?
No skating period, straight jacking.
How would you describe "jacking"?
Jacking is dancing as if you were working out in the gym pumping weights or trying to work someone up to an orgasm while dancing, be it dancing with a person, a speaker, the wall, or any object one could hold on to and go nuts because they love the music they hear so much.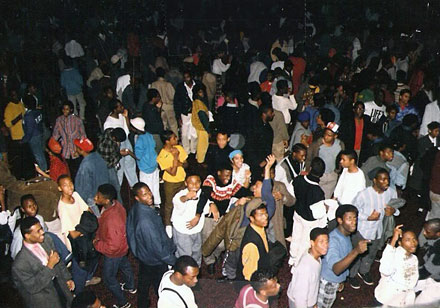 What was the crowd like there?
The Rink Zone crowd consisted of the teens that went to schools whose names did not appear on flyers for the downtown parties (where the thought-to-be all-that/popular people went—good schools like Kenwood H.S., Lindblom, etc.). Schools like Robeson H.S. did not appear on flyers back then because that was considered a ghetto school. That ghetto school had some serious house heads, including me….
Do you have any wild party stories?
One night at The Rink Zone, we had a booth set up for customers to stand in as money blew around. Any cash they held in their hand, they could keep. One night while the money machine was not in use, a guy named Paul had a girl inside there. Dwayne Jammin Jackson (the opening DJ) turned on all the lights in the club, grabbed the mic and said "Hey y'all, Paul got a girl in the money machine." The whole crowd had eyes on the money machine and we were in the booth dying laughing as they were trying to get dressed. Wow, good times back then.
What was your best night spinning?
The night at The Rink Zone when I was playing "Your Love" and I had the system cranked up so loud that the fuse box on the wall exploded and the power line melted away from the building. That night blew people's minds! I mean the stories that people told all week long about that night went from A to Z. That explosion was another event that made me godlike as a DJ. I was the DJ and house music king of the South Side of Chicago, hands down. It just took a few years and one-thousand-plus people to see it and talk about it.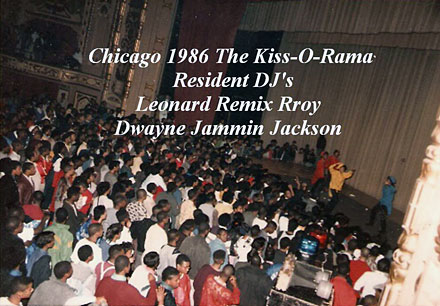 What other clubs did you play?
The Hummingbird, the Sheba, What's Poppin, the Kaz Bar, Jeffrey Pub, Relax, The Attic, The Loft (I opened for DJ Larry Williams), The Playground (I lost a DJ battle there to Lil John), Sauer's (I won a DJ battle against Steve "Silk" Hurley).
The TS Club (Atlanta 1986); The Peppermint Club (Böbligen, Germany); Galaxy (Stuttgart, Germany); The Cinderella Club (Stuttgart, Germany); Wilkins Barracks (Germany); The Engineer Club (Missouri); The Gateway (Korea); The Black Rose (Korea); The Warriors Club (Korea); Bengies (Dolton, IL), Valentino's (Dolton, IL), The Chosen Few House Reunion Picnic, The Attic House Music Picnic, Leo's Den.
Can you describe some of the South Side clubs you mentioned?
The Hummingbird was not as good as The Rink Zone and the system sucked when compared to other clubs. Plus, there was this country bumpkin drunk who was in charge when the owner was not there and he gave people problems—including the DJs.
The Jeffrey Pub was small but nice to play in. The booth was jacked up, 3-feet wide, 6-feet long, and it had no stairs. DJs would have to climb in the booth via a bar stool. They had a small system that worked well for the size of the club. Two speakers with 15s and a horn.
The Loft had a system equal to the Richard Long system at the original Music Box on 16th and Indiana. Larry Williams was the headline DJ, and he was beyond great. He was the first choice to open the Music Box, but due to creative differences between him and owner Robert Williams he did not get the gig, and Ron Hardy got it. I lucked up on spinning there because a spot I went to weekly called First Impressions was closed the night a group of friends and I went there to party.
As we walked south on Michigan towards 22nd Street we heard music coming out the second floor of a building about two blocks south of First Impressions. We went upstairs and there we were in a club with the loudest and cleanest system ever! My friend Cleve said, "Why don't you ask him if you can spin?" I asked Larry and he said OK since the club was still empty. After he heard the selection of music I was playing, he later asked me if I was interested in opening for him. I said "Yes!" Hell, I didn't even say I wanted to get paid—I was in love with that system.
I only played one time at The Playground. It was a DJ battle. I lost to Lil John (Coleman) and as I reflect back, I did not lose because he was better than me, it was my cocky attitude. I went into the booth doing my best stuff as I pointed Steve Hurley and Farley out, saying stuff like, "Y'all can't hang with me… I got all y'all beat." I would set up to do a turntable trick and point at either Steve or Farley and say, "This one's for you." I met Chip E. that night and we became friends right off. Good times back then. Farley and I never had a foul word to say about each other. We were rivals at best and we are still friends today.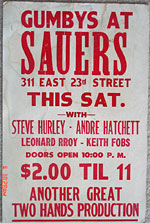 Sauer's. That was my crowning moment saying Leonard "Remix" Rroy has arrived! Steve Hurley was the resident DJ and when I beat him in the DJ Battle at Sauer's, I became official. Soon after that I started noticing people who were loyal to The Playground coming to The Rink Zone. The funny part was the popularity they had at The Playground meant nothing at The Rink Zone—they went from popular to patron all in one shot. I never was one that was stuck on myself and I never tried to play at places where the stuck-up, popular people went.
The only reason any DJ is a star is because of the stars who listen and dance while they play. Without the crowd the DJ is nothing more than a human radio playing music. I always wanted those who felt like they were on the outside looking in to feel like they were on the inside looking out. That is why I've never been called a stuck-up DJ. I do have a big ego when it comes to known house DJs, but as to the party people and up [and] coming DJs, I am never too busy to stop what I am doing and talk. If it were not for them, there would be no me.
When did you join the Army?
I initially joined the army in February, 1987 after doing a gig in Nassaw. My mother died two years prior and that put me in a depressed state. I was up one morning watching Oprah and her show was pre-empted because the Space Shuttle exploded. That same day I went to a recruiting station and signed up. My life was going beyond downhill at that time. It looked as if I had it all, but all I had was because of my mother, and her death in reality was the end of me. I joined the Army to deal with the grief and get my head back straight.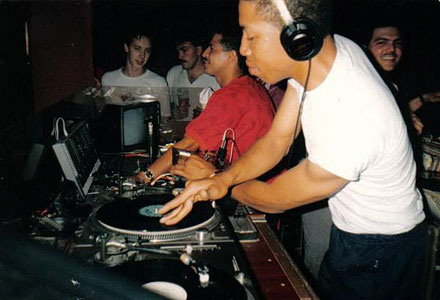 Do you still spin regularly?
I play once a week for the house-head military members in Afghanistan and we have a blast.
How do you feel about the house scene today?
All I can speak on is Chicago…. I feel it would be better if some new blood was in the mix. I, for one, do not feel this melodic crap that is being put out and praised like it's the best song since "Born This Way" by Carl Bean. I call it "la la music" and there are far too many Chicago DJs that are trying to be New Yorkers instead of trying to do more at home. To each their own, but I am not going to turn my back on the city that made me and kiss ass elsewhere just to say I played there. Sorry… that just ain't me. Everybody has their own local thing and I am not going to dis New York, Jersey, Baltimore, Detroit, or Atlanta or their DJs or their scene. But shame on a Chicago DJ that praises other places and disses home as if Chicago did nothing for them. That is wrong as wrong can be.
What are your plans for the future?
I plan to make it back from the war, go on my first visit to New York, and play with the most incredible house music DJ I have seen in recent memory, Donna Edwards. If I were to talk about how impressed I was while she played a one-nighter in Chicago… that would be a whole other interview!