Staubgold, 2006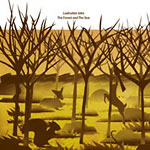 This is a radical genre-bending of true-life story married to acoustic and electronic elements gathered from Greece, Sweden, and the UK. John Burton is UK-based and no stranger to electronic music, having worked as remixer and composer for several years now, but this is something entirely different.
Richly arranged, stark, and luxuriant and featuring guest drummers, bassists, and vocalists (although Burton provides his own prominent poignant howl of a voice) everything is so perfectly blended as to be seamless. "Maria in The Forest" begins as a collage of horses' hooves, children's voice, and extremely dark low-end drone all creating a highly uneasy pastoral atmosphere. Slowly, an accordion fades into view as does what sounds like heavily processed water splashes that become almost vocal. As soft drums brush out a rhythm, gently lapping electric guitar enters the mix and an uneasy peace becomes established. The terrain shifts again as the instrumental piece collapses amongst great swathes of digital detritus and as this builds to a distorted rumble everything cuts out and the listener is plunged into the acoustic vocal "Dream States 1" urging Maria (presumably) to "lay her head down."
So things continue in this vein—startling shifts in mood and texture conjuring up a truly strange dark fairytale atmosphere. As nu-folk rises to dominate with the likes of Devendra Banhart and obscurities enjoy reissue fame, there are some truly brave pioneering souls carving out new sculptures, paving possibilities and allowing older acoustic traditions to breathe in strange and stunning new alien settings rather than simply settling for blind reproduction. Releases like Jonquil's Sunny Casinos, Spinform's Bryter Tystnaden and Various' The World is Gone have offered truly intriguing ways to move with acoustic electronic music that equally wants to remain married with traces of song. This release belongs with them and paves the way with fresh and vital oxygen. A triumph and an album of the year.