Environmentally Sound, 2006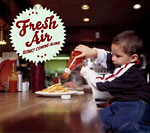 Fresh Air is yet another hip-hop group expertly combining jazzy early nineties-style production with conscious lyrics. Khalil, a teacher from Souther California, MCs and produces, while DJ FrankE mans the turntables.
"Worldwide" featuring Alexx Daye is their version of "Award Tour." On one chorus, Khalil calls out, "From Toronto to Milan, out to Vegas." "30'Somethings Live" is laid-back and assured with vocal samples from some of the most well-known jams you could pick. "P.S.A. (Owed to Hip Hop)" has a great, chunky beat, though the lyrics decrying thuggism aren't particularly original. "Awontoone2" is pretty tight, but it too sounds very familiar. Dre-Da's guest spot on "How We Do It" reminds me of Euphon. There are multiple "La-Di-Da-Di" Slick Rick samples.
The bonus track, "Level Head," about a guy transmitting AIDS, is the stand-out track in terms of subject matter. This is a nice EP, but I do think that Khalil could expand his range of themes. Fresh Air's style is quite slick, but it could be even more original.