You can't have a music festival without a rainy day. I arrived at Hart Plaza just as the heavens opened for a brief but fierce thunderstorm. Fences blew over and tents leaked. When it was over, Luke Hess took to the main stage with a chill dub-techno mix while crews uncovered equipment.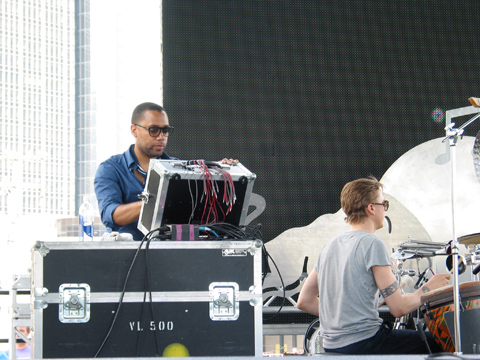 I made it to the Red Bull stage by the river just as the Moritz von Oswald Trio was setting up. Von Oswald introduced fellow musicians Max Loderbauer on Moog, Vladislav Delay on percussion, and surprise guest Carl Craig on modular synth. The quartet played two slow-building jams, each stretching over half an hour. A steady kick drum and deep, dubby bass contrasted with floating, subtly changing synths.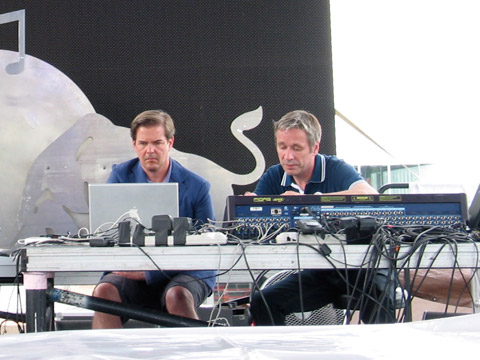 The second piece seemed almost free jazz as bass notes started to fall in unexpected places. Warped gamelan gongs sounded over the infectious rhythm as storm clouds rolled in. Von Oswald seemed truly appreciative of the small, die-hard crowd. I want to keep that performance in my memory as the perfect conclusion to a great festival.
I did stay through most of the rest of the day, briefly checking out Sean Deason and, later, Minx as it poured. Whether it was the weather or the thinning crowd, neither DJ seemed at their best. Minx surprised me with really bare, almost progressive, house music. I was hoping for something more Pirahnahead (like on her label) than Minus. Eventually it just got to a point where it was rain versus line-up, and having seen Kenny Larkin and Model 500 previously, I decided to call it a night.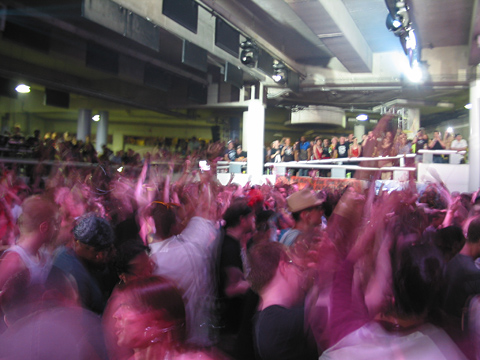 My second DEMF was a good experience overall. If you are into electronic music, you owe it to yourself to make a pilgrimage to Detroit at least once. Bring a car and, if possible, a posse. I mentioned Tom and Frank previously, but it was also nice to meet Denise Dalphond and to hang out with Steve from Little White Earbuds. Whether you're into house, techno, experimental, or all three like me, make some friends online and support your local scene. I guess I'm feeling a bit philosophical, but we need to hold on to our sense of community.