City Centre Offices, 2005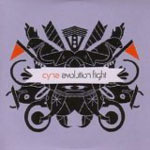 Cyne is a quartet of conscious hip-hoppers from Gainesville, Florida. After their debut on Beta Bodega's Rice & Beans and follow-ups on Botanica Del Jibaro, their second album has found an unlikely home on City Centre Offices. On first listen, this LP's thick, funky production stands out. Cyne combine samples with live instruments (horns, bass, and even vibes). On subsequent listens, these guys are talented rappers. Dense lyrics and smooth flow juxtapose serious topics with a fun sense of humor.
Many of the strongest tracks have already been pressed to 12-inch. There's the soulful "Rousseau," with chopped R&B vocals. Says the rap, "I need tech support like Vanilla Sky." It continues, "I just don't understand,/I be the grown-ass man,/but every time I see the cops/they make me lift my hands/so they can pat me down,/and I just don't see how/I play by they rules/but they still treat me foul." "Automaton" is a short, sweet jam. Again, chopped samples provide the break. The rap swings from "Mr. Roboto" to talk of Social Security. "Growing" has a simple beat and long, uplifting choruses. On "Running Water" Icarus gets a mention over electronic music and phone rings.
Another highlight is the title track. A catchy piano loop accompanies heavy rhymes on AIDS, war, and Amber Alerts. "Arrow of God" has a long, interesting sample on the concept of eternity. On "Deferred," the phrase "breaking atoms like Oppenheimer" stands out. The second verse of "Fallen Stars" has fascinating electronic production with washes of reverb. The third verse adds a layer of thick beats. Finally, "Moonlight" is a fitting outro—a battle rhyme over a sweet, melodic tune.
This album reminds me of Lyrics Born's excellent Later That Day…. Both releases have a '70s vibe while touches of humor keep the darkest parts from getting too depressing. While certain big-name rappers are grappling with their own success, these guys are refreshingly honest and real.