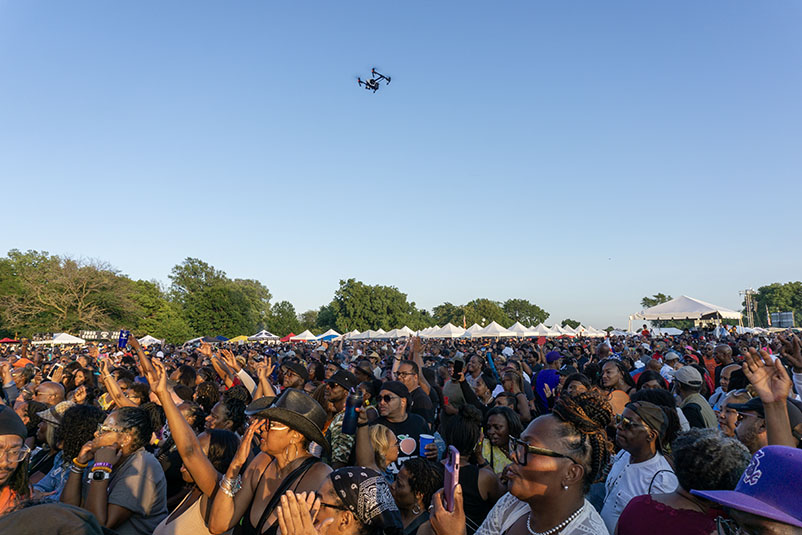 Clouds lifted at the 2023 Chosen Few Picnic in Jackson Park, Chicago this past Saturday. It was my first picnic since COVID, and I actually teared up as I walked in through the rain, following folks pulling wagons with coolers and camp chairs to the familiar melody of The O'Jays' "I Love Music."
My RA article from 2016 provides a history of the picnic, which started in 1990 as a family gathering. A new documentary, The Woodstock of House, covers similar territory and provides an overview of how house music started in Chicago's Black, gay after-hours clubs in the early 1980s when kids from a variety of backgrounds were inspired by DJs spinning disco, New Wave, and Italo alongside local stripped-down drum tracks.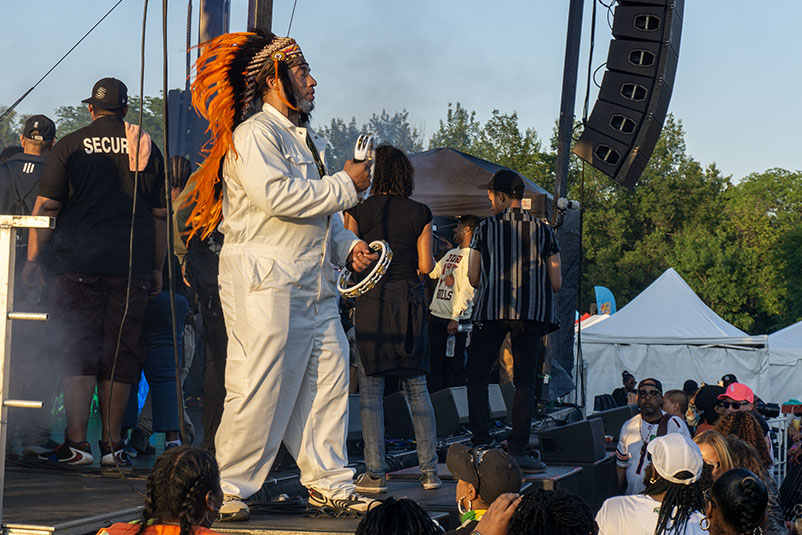 The picnic draws tens of thousands of original Chicago house heads for a day-long celebration with the Chosen Few DJs (some of whom have been spinning since the late 1970s) plus guest DJs and vocalists. Some attendees spend the entire day dancing in the grass, while others sit out with friends and family grilling, sipping drinks, and puffing on cigars.
I arrived this year around noon under a steady, light rain which promptly washed away my sunscreen. Unfortunately, I missed morning sets by Carl Jenkins, Lori Branch, and the Hatchett brothers. I caught Wayne Williams' set of mostly classics. Next, Stan Zeff from Atlanta played an energetic series of mashups, though the blends were rough, with some un-synced acapellas.
The rain let up around 1:00. John Morales, whose sets I've enjoyed in the past, played sped-up disco remixes featuring overly heavy kick drums. Next Lidell Townsell sang some of his house classics, including "Get The Hole" and "Nu Nu," bringing his young nieces out on stage. It was fun to see.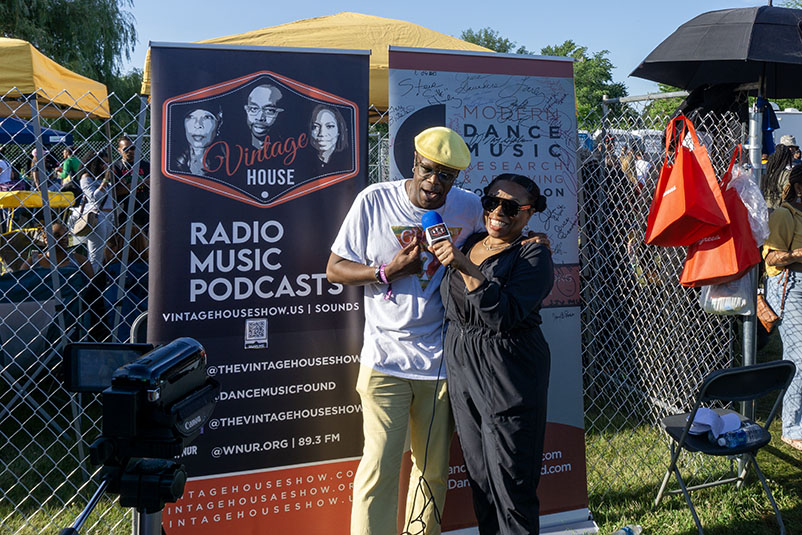 Around 2:00 the sun emerged, and Jamie 3:26 played a boisterous bunch of edits, including The J.B.'s, "Sun Sun Sun," and Eurythmics' "Sweet Dreams" over Donna Summer's "I Feel Love." He channeled Ron Hardy with his EQing, leaving the crowd chanting for more. Jamie currently resides in the Netherlands, spreading Chicago's musical history worldwide. He proudly declared, "House music is Black music!"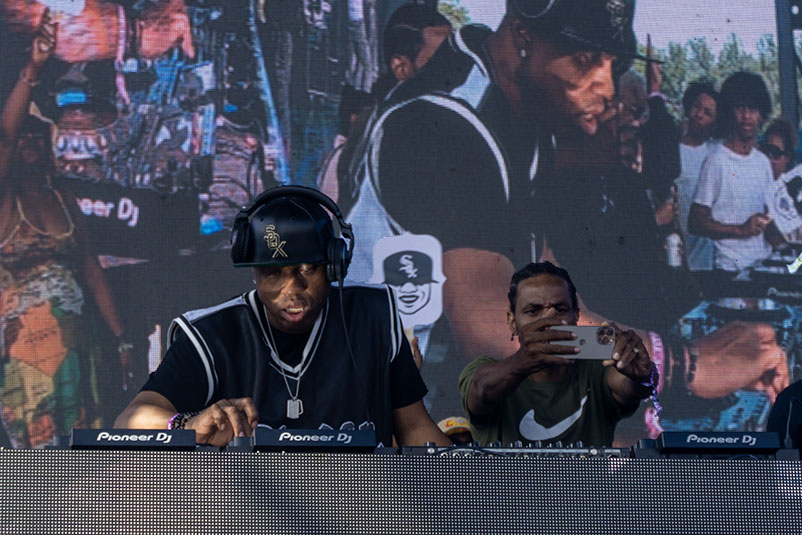 Mike Dunn's set spoke to me the most, with contemporary tracks and minimal EQing. I wish I could identify everything he played. Mid-afternoon, the weather was finally glorious and the crowd began to increase. BeBe Winans sang a few gospel tunes, then Kenny Dope played a set that I mostly missed, since my stomach was growling for supper.
Late afternoon, Alan King, looking focused, played classic crowd-favorites. When he dropped Loose Joints' "Is It All Over My Face," it inspired the enthusiastic call and response "Hell, yeah!" Following King's set, the Chosen Few presented Jesse Saunders (producer of the very first house record) with a lifetime achievement award. Saunders, who suffered a serious stroke late last year, appears to be recovering, and it was good to see him.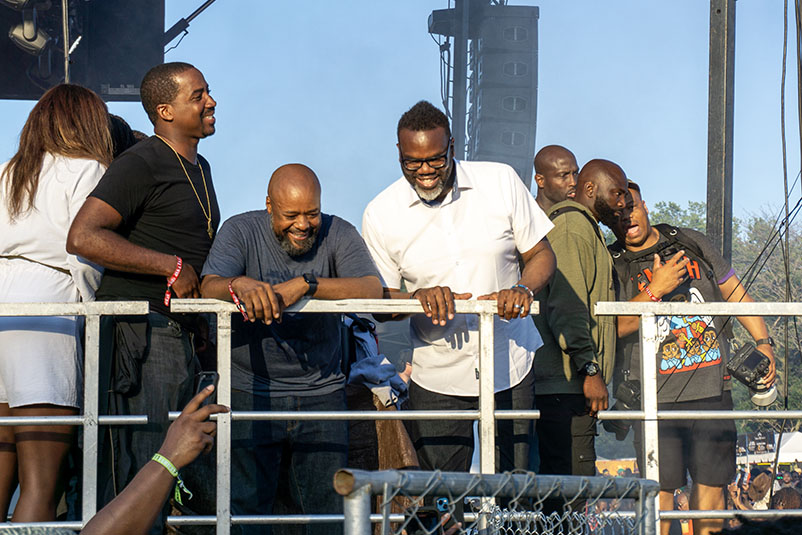 Next was an appearance by newly elected Mayor Brandon Johnson, whose charisma was infectious. He professed to be a house head, drawing a distinction between West Side and South Side styles. Johnson mentioned the recent landmark status of the Warehouse, emphasizing that a style of music that changed the world started in Chicago. As Johnson mingled with the VIP crowd, Terry Hunter cued up "French Kiss." By this time the audience was 30,000 strong and twilight was falling. I headed out before Wayne Williams and Tony Hatchett's final tag-team set, blissful from the experience.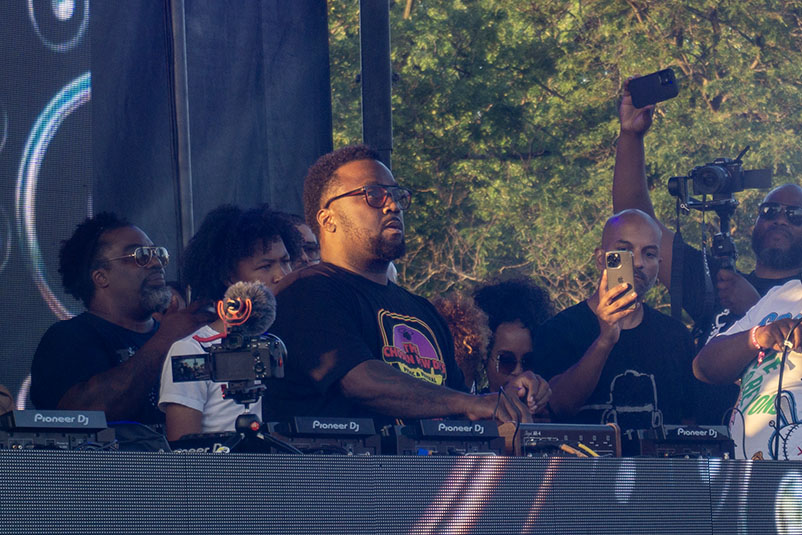 House music is everywhere in Chicago if you keep your ears open, but the original community is what makes it truly special. At the picnic, I kept running into people I knew, from house music legends to fellow fans. Everywhere I went there were strangers dancing with me, chatting with me, offering me drinks or wanting to take photos. I can't think of another musical experience that is as welcoming and joyful, capturing the love and acceptance that is house.