Rush Hour, 2009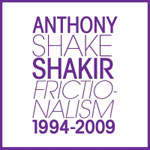 Anthony "Shake" Shakir may not be as well known as some of his contemporaries—Carl Craig immediately comes to mind—but his music is just as varied in style and as consistently high in quality. In fact, his singles have always been in high demand by those in the know. This well-deserved retrospective, containing three and a half hours of music, helps the rest of us catch up.
Shake selected and edited his own tracks for inclusion here. I'm going to describe the 3-CD/digital version, which includes the most music. Shake starts with "Mood Swing" from 1996. It's bass-heavy and atmospheric. "Live For Friction," from the same period, is an electro rain storm. "Plugged In" and "The Floor Filler" from the Club Scam II EP take us into quirky disco territory. Between them is "Arise," which contrasts pensive synths with a driving beat. "March Into Darkness" is another favorite. It has that pure Detroit techno sound, with some pitch bends near the end to mix things up. "Electron Rider" is even more amazing, with a voice-like synth line that wraps its way around filters over chunky, bouncy bass. "Stereotype" and "Detroit State of Mind" are excellent as well. The former flows right by, with intricate beats, sweeping melody, and a thought-provoking sample at the end. The latter is a tight jam with unique drum fills under strings, vibes, and horns. It's more jazzy instrumental hip-hop than techno.
Thankfully Tracks For My Father, Songs For My Mother, and The Unsterilized Sessions are here in their entirety. On "One Beat (Just Won't Do)" I love the long organ phrases even more than the hook. "…Like A Dream" and "Simpatico" are both downright funky. "Travelers" is downtempo and IDM-ish. It reminds me of Strand (who got their start on Shake's label.) "The Fake Left, Go Right Plan" is wacky, with a hard, fast beat and gritty synths. When it came out, it was completely original. Ironically several house producers have since adopted similar sounds.
The third disc focuses on tracks that have "squeaky" beats. "Assimilated" and "For The Lamented" are both house-friendly. The former juxtaposes keys with lo-fi percussion and bleeps, while the latter rattles along with the nicest chords over top. On "Frictionalized," sweeping spacey synths predict recent efforts by a number of producers. "Lay Back (In The Cut)" is sweet and downtempo. "Psychotic Tango," from an upcoming (unreleased) single makes me think of Reggie Dokes' recent experiments. Minor arpeggios and percussion hits break for pleas of, "Don't stop." "Get a Feeling" is an uplifting house/techno hybrid. Huge kicks, Chez Damier-like chords and bass, and catchy vocal samples compress into a loud mix. "Flyswatter" is a strange way to end. Perhaps Shake feels its broken beats and wobbly, digital bass point to the future.
It's difficult to summarize an entire body of work. Each time I listen to this collection, I'm immersed in Shake's world for half a day. This anthology is essential for anyone with even a passing interest in Detroit techno or house—which ought to include anyone who listens to contemporary electronic music, period. I haven't compiled a best of the decade list yet, but this collection would be at or near the top. It truly is that influential and that good.