Rephlex, 2006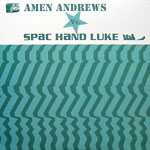 It seems I have a love-hate relationship with Vibert. Some of his music is so cheesy and simple, it's hard not to cringe, but occasionally he can stun with more subtle, funky fare. I really liked his five Amen Andrews 12-inches from 2003, but this new album seems crude by comparison.
Although it shares a title with a cut from the fifth 12-inch, this "London" is a completely different track. Silly samples proclaim, "I love music… and this is… music…." I suppose. "1 Shot Killer Pussy" is a one-trick pony. The title phrase repeats over drum and bass beats. "Like a Machine" is based on a Shaft sample: "I got to feelin' like a machine." Old-school bleeps and bass are used to eerie effect. "Multiple Stab Wounds" and "Intelligent" are both manic, with frenzied jungle beats and familiar samples. "Grave" is built on a brief Lyn Collins' "Think (About It)" sample. Dark, atmospheric synths and a hard beat make this my favorite track. "Junglism" takes a Parliament sample and juxtaposes it with some serious bass. But what's with the overused, "Oh my gosh, the music just turns me on"? "Play" uses recognizable scratching from De La Soul's "A Roller Skating Jam Named 'Saturdays.'" At times it feels like I'm playing a music trivia game!
Some of these tracks work, depending on my mood and receptiveness to silliness. On first listen I was disappointed, but on subsequent ones I'm starting to surrender to the party atmosphere. I had the same mixed feelings about Vibert's Plug alias. There's something to be said for these helium-filled antics, but like any spun sugar product, consume in moderation.