More Definitive Original Acid and Deep House 1985-1991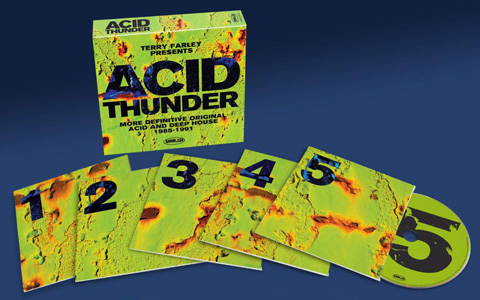 I'm proud to announce this massive 59-track, 5-disc compilation of deep and acid house gems with extensive liner notes by yours truly. Acid Thunder, due out August 18, is the follow-up to Terry Farley's Acid Rain compilation from last year. Farley co-founded the late '80s London clubbing zine Boy's Own and the dance label Junior Boy's Own.
This compilation includes over two-dozen important tracks from D.J. International and its sub-label Underground. My notes tell the story of disco record pool owner Rocky Jones starting the label and signing artists like J.M. Silk, Sterling Void, and Chip E.
Additionally I touch on early footwork through the story of dancer turned producer Kareem Smith from Dog Pack and ENB (Epsilon New Breed). I also cover Chicago house music's influence on New York's club scene and the marketing of Detroit artists overseas. The compilation features several cuts from New York's Nu Groove label and from Detroit's Blake Baxter.
Complete liner notes via Ransom Note: