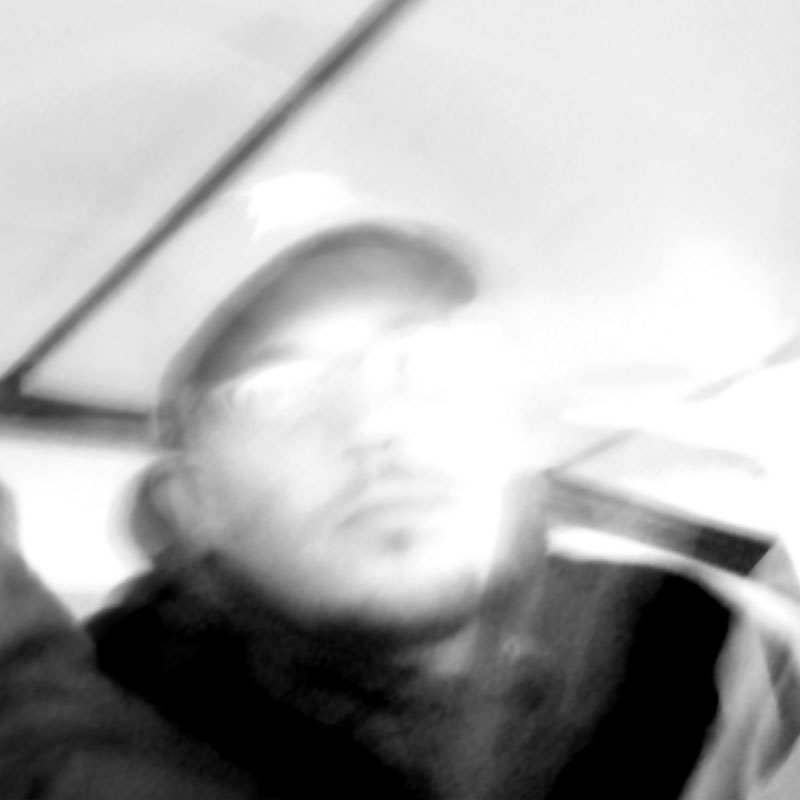 Chicago-area producer Stephen Hitchell is a man of many projects. As Soultek, he released 12-inches on soundshift [detroit] and Lee Purkis' Fortune8. He collaborates with Rod Modell as cv313 and Echospace. One of his latest pseudonyms is Intrusion on his own label, echospace [detroit]. Hitchell's dub-influenced techno has contributed to a revival of the style. He answered my questions via email.
Jacob: I understand you have a long history with electronic music. How old are you? How did you get started, and what were some of your influences and inspirations?
Stephen: Well I am now in my thirties and feel much older than I am. (I suppose I could partially attribute that to being a young father.) I have been into music since I was a little boy. At five years of age my grandmother was teaching me about jazz, swing, and blues on the old Hammond organ we had at the house. I learned a lot about soulful music of the forties, fifties, and sixties. She really loved the funky, more soulful sides of music, especially on piano. Early Motown artists were always playing in the background.
In regard to electronic music, one of my earliest memories was receiving a 12-inch from Tomita titled "Snowflakes Are Dancing" released on RCA in the early seventies. My aunt, who was deeply into the seventies and early eighties era of early electronic music thought I would enjoy it, and she was right on point. It was a classical rendition of Debussy's tone paintings, a sort of Virtuoso style of classical done in a very unique way, using analog and modular synthesizers in place of live instruments. This was one of the first records I remember inspiring me to investigate electronic music further, which lead me to discover the works of Tangerine Dream and Ash Ra Tempel.
Reggae/Ska
At that time I was really also getting into reggae music. My uncle was always out in Jamaica diving and would bring back tons of music he bought there. I mean, sure I loved Bob Marley, but many of the things he was playing dated even before Marley's time. I just fell in love with it.
In high school I was playing keys in a garage band and heavily into skate boarding, graffiti, loft parties. Our little band project lasted about two years. We were trying for a ska-influenced punk thing. We were all into different things at the time. I was really getting sunk into electronic music full-fledged and less devoted to punk/ska styles of music. In retrospect I am sure that is partially why I quit and it never really went anywhere. It did teach me a valuable lesson about working with other people with music. If there's no synergy, magic just won't happen.
By my first year of college I was working with a reggae group who mainly covered Bob Marley and The Wailers songs over and over again…. Carnell, who was the guitarist in the group, grew up in Stony Hill, a town close to Kingston. He would rave on about the artists he saw perform, the island lifestyle, struggles, and, being in his uncle's studio when he was young, how the sound came to be. He really taught me how much Jamaica had influenced music in every form from pop, jazz, to R&B…. Although I only spent a little over a year with them I learned a lot about the musical form and certainly kept it with me over the years.
House/Techno
At that time I was also taking trips up to Gramaphone records in Chicago and met one of my closest friends even today, Josh Werner…. Josh had been at the store since the late eighties and really gave me the A to Z when it came to the history of electronic music. I owe much of my musical education in that respect to him. I remember telling him how much I was into dub and reggae music and him handing me The Orb's first singles back in 1991, I think: "Little Fluffy Clouds" and "In Dub," two records I still adore even today.
I really found myself during that time of my life. I was buying records every week and investigating as much as I could. A whole new world had opened up to me. Growing up in the late eighties and early nineties in Chicago, the local radio shows (WBMX) were being championed by the original Hot Mix 5…. House music was hard to ignore in Chicago at that time, and acid house had really taken over with Sleazy D, Phuture, and Adonis. It was everywhere you went. I remember hearing Lil Louis "French Kiss" being played on the radio six months before it came out on vinyl. Things were really inspiring back then, so many new ideas, and to witness it first-hand is really something I will cherish the rest of my life.
I must admit, as much as house music was really tipping off back then I was more into the Detroit sound: KMS, Transmat, Metroplex, UR, Axis, Red Planet were all labels I was addicted to. Sure, I have the entire Prescription, Balance, Cajual, Relief, Warehouse, and Trax catalog, but with those early pioneering Detroit labels I really found what I was looking for. I love experimentation—it's just part of my nature by default, and I found that with those early Detroit producers they were really looking to break away from the Chicago sound and adopt one all their own. Using science fiction as a theme and futurity as the sole purpose, they really succeeded in their quest.
I think Chicago and Detroit have always been feeding off of each other. Being so close to one another, it led to many great collaborations. One I will never forget was the pairing of Chez Damier and Stacey Pullen on their eternal classic "Forever Monna," an amazing example of the deep house sound of Chicago and Detroit's futuristic edge.
In the early nineties I bought so much music, from 1988-1999 fifty percent of the money I made went to the record store and the other to my studio, which always seemed to be a work in progress. Thankfully my friend Roy (who had just about every rare synth you could imagine) would let me record on his gear and I would sample as much as I could. I have been really serious about music production from 1992 on and it never really stopped!
Basic Channel
In 1993 I discovered a release which really caught me off guard. It was titled "Enforcement" from Basic Channel. I saw Jeff Mills had done remix work on it, and I had been collecting his work then for quite a few years. I was always under the impression back then that the group was from Detroit given the close ties to Detroit artist and labels, not to mention back then they were all domestic priced and being pressed in Detroit and just about everyone I knew said they were coming from Record Time.
By mid-1994, "Quadrant Dub" had come out. I still remember Josh handing me a copy, saying, "You of all people need to hear this." He was right. The strange thing about that record is at the time I had been religiously, exclusively involved with work on vintage synthesizers. I remember hearing some of the first DCO synths, admiring the sonic character, and thinking I've never heard anyone incorporate tones like this in their productions until the day I heard "Quadrant Dub." When it went through those headphones everything I loved about music, dub, jazz, and techno all mixed up in one, with a sort of lo-fi ambience and a sonic character so warm in comparison to most of what was out there. It was out of this world. Similar to The Orb's early work, I could hear the presence and incorporation of studio techniques I had learned about from Carnell. It all snapped in my head, and I could still hear his words, "Reggae and Jah was in all things and would influence all things. It was eternal." And there it was, a truly captivating moment for me.
In regard to inspiration, well to me my beautiful baby boy is one of the largest inspirations in my life. My beautiful wife and family, friends, experiences, all a great source of inspiration. Another great source of inspiration is discovering new hardware, synthesizers, gear, and designing my own signal processors and effects. I've gone through so much hardware (synths, drum machines, samplers, signal processors, amps, tubes, you name it) but now I finally feel I have a great handle and understanding in so many forms of synthesis and a very good scope on what to use and how to use it. Kind of an exciting time, really. Last weekend, I locked myself in our garage and built my own reverb which only cost me about $20 to make. That to me is the best part of all this, building something truly unique and using it in your recordings that same night. It was a magical experience and very inspiring. I really understand why King Tubby loved doing that so much, it gave him something all his own. I guess that is all we can hope for.
How did you and Rod first meet?
I met Rod through Mike Schommer years earlier. I had been sending demos and music after the first Deepchord CD came out (1999 or so). I really liked their sound. To this day Rod said it was the only demo he and Mike received they would have put out, but given the high amount of their own material to get out, that never materialized until the birth of Echospace years later.
At the end of the nineties I remember a huge resurgence of interest in dub techno (even Yoshi Toshi were endorsing it, releasing Heiko Laux's amazing "Dedicated To All Believers"), and then it just disappeared leaving only traces of itself behind. At the time I remember going to Gramaphone, asking Josh what was in I would like, and getting passed two things: Luomo's amazing first 12-inch on Force Tracks (might just be my favorite vocal project of all time), Pole's first album release (which I just adore), and Deepchord's self-titled CD. Well, I listened and loved every second of it. Something was so sincere about the Deepchord CD. It was mechanical, warm, organic and authentic. It was a truly unique sound and done in a very original way.
One thing I really loved about the early DC work is its close tie to Detroit—the chord hit that seemed to evolve over time and evoke so much emotion. In a strange way the music almost gave me the feelings I had when first listening to the good old classic Inner City and early Kevin Saunderson projects. If you reference Inner City's early work in the eighties, you can hear some of the first crossover between techno and dub with the massive chord hits and delays. It's strange how living in a place can come across in your music, but it can. I find where we live and where we're from always comes across in the music and certainly it did with the first Deepchord CD. It's in the mood and feeling and it comes across in the music. It's Detroit and it's eternal.
From the notes on your Echospace project, you're committed to analogue equipment. Have you ever dabbled in computer sound production?
Yes, of course I've worked with computers. I am not anti-computer at all, and that's certainly not what was meant to come across in the notes of the CD. That album in particular was done using gear including analog sequencers, a wide range of analog-based effects, vintage samplers, and late-seventies to early eighties synthesizers, and the notes were meant to show appreciation for "days gone by" technology. Our philosophy for the album was to move forward in reverse and in doing so we refused to incorporate a computer into the production process.
What is it like running your own labels?
A lot of work which can be frustrating at times but you have to just learn to accept you can never make everyone happy.
Many of your releases have limited runs. Is this simply for budgetary reasons, or is it part of a release philosophy?
Well in most cases, even though most would assume you're selling thousands, as I've recently encountered, it is really what the market will allow without over-saturation. Not to mention the limited "those who know" philosophy is one of the reasons I fell in love with underground culture and music in the first place back in the late eighties. To me it is also important as a twenty-year veteran vinyl collector that things are limited to a degree. That way people feel like they have something sacred. I mean in the scheme of things these records are really limited even if one thousand are pressed. That is pretty small scale when you look at first-week sales on a major pop or hip-hop album.
It's a hard time to be running a "vinyl-only" record label considering the amount of file sharing and illegal downloads happening. Which brings me to my next point; I have finally made the leap to digital which is something I honestly didn't want to get behind one-hundred percent. Trust me when I say, working in vinyl distribution for over ten years myself, collecting vinyl for twenty, and moving four times in the past four years with over ten thousand records to move along with me (now that is love and dedication), this was about the hardest decision I've had to make with the label so far. The last release ("Intrusion," echospace007) was the final indication of what had to be done. One week after it came out the top one-hundred results in every major search engine were illegal Russian download sites (charging for my music, illegally), message blogs with links to download the entire release in high quality, and file-sharing torrents. Seeing that made the decision for me. There is no way we can stay in business and put records out without digital sales as the vinyl sales fall to the bottom and more thieves steal our music.
Not to mention a good friend of ours works at Beatport and has really helped us understand the full scope of how digital can help a label reach the younger DJs who don't play or buy vinyl. He has been a great help in getting us started in the digital market. Beatport will be the exclusive outlet for echospace in a digital format and one exciting thing about this is it gives us the opportunity to release music which never did make it to vinyl. Sometimes when we recorded a song, we had to narrow it down from four to five different takes and sometimes on four different reels (which makes it pretty easy to overlook one mix or two). Then you look back after it was released and wish a different version had come out. Well with digital it gives us that opportunity.
As you gain more fans, you undoubtedly receive a wider range of feedback. Is it hard to put your music out there and accept both positive and negative opinions?
Sure, it's never positive to hear negative things, but in the end if you're happy with your work that is all that matters.
You've done quite a few collaborative releases. What do you enjoy about working with others, and what is the process like?
I love the energy. You can feel that you're feeding off of one another. In some cases it's a very positive experience and in others it ends in a screaming match. I guess it's all about compromise and your willingness to be open to suggestions. Personally, I love collaborations. Sometimes it really brings out the best in all parties. Sometimes I really miss being in a band and other times not. It's a love/hate thing.
How long does it usually take you to compose a piece?
Well that can vary from days to hours but usually if nothing magical happens in a two-hour period, I am done for the day.
What do you do when you're not making music?
I work in a studio as an audio engineer part-time, mastering and recording (mainly gospel, rock, hip-hop, and R&B). I also do freelance computer/IT work (repairing networks, custom servers, design, and database work) on an as needed basis.
What are some of the projects you're currently working on?
A new project with my wife and me called Vivace. We have a single coming out on François K's Wave Music label in NYC. Also, a new Intrusion single which features a remix from Brendon Moeller and an album which I am just in love with. Also Rod and I are working on an Echospace remix for Brendon Moeller's project with Paul St. Hilaire. I also have many plans for the echospace label this year including a CD album of Model 500's "Starlight" coming out in Japan this month, the final release of Erik Møller's "i:" project, and last but certainly not least, a new Echospace album with Rod. We're spending a lot of time with this one so most likely it won't be completed until spring or summer next year.