Ojo De Apolo, 2010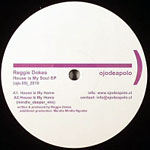 Reggie Dokes' latest single is on Ojo De Apolo, a relatively new label out of Chile. "House Iz My Home" uses many of the same odd sounds I found endearing on Dokes' Rain Redemptive Love EP, but it adds a schmaltzy roller-rink organ solo over the wavering strings and persistant congas. The "Mindlo Deeper Mix" wisely smooths the strings, strengthens the bass, and swaps out piano for most of the organ parts.
On the flip side, "My Soul Reaches Up" is dominated by a muffled kick drum that cuts through layers of strings and piano. Halfway through, Dokes introduces much needed claps and bass. While it's not a bad tune, it's also quite similar to his previous work.
"She's on My Mind" is my favorite track here because it is the most unique. Once again, organ melodies takes center stage. I picture Dokes playing away in a big old house while revelers clink glasses in the parlor. Whether this track would work in a club remains to be seen, but near the end a simple piano line and stomping beat beg for Darryl Pandy vocals.