Echocord, 2008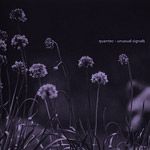 Quantec's best work to date is a meticulously crafted album of Chain Reaction-style dub techno. On "Amanita Muscaria," chords pan over a kick drum. Deep bass drops out at the beginning and end, allowing for easy mixing. "Deliberate" centers on warm pulses. I imagine time-lapse video of clouds forming and blowing by.
"Unusual Signals/Reversion" is where the tracks start running together for me. I like the bass progression, but the chords strike me as formulaic. On "Iboga," synth sounds swirl over puttering percussion and substantial bass, forming a moody morass. "Yage" is another chord-centric track, with reverb filling the space between notes. "Panaleous" is dark and dense.
Unusual Signals is an enjoyable listen, but like many recent dub techno LPs, the individual tracks are indistinct. Taken as a whole experience, this album works, but I'm unlikely to seek out a specific cut for later listening. In the age of shuffling iPods, that's not necessarily a bad thing.