This is the third part of a series examining the roots of house music.
If you want to make a case for house originating in New York, these are the records to cite. While dub mixes were often an after-thought in the studio, they were club DJs' bread and butter.
These early eighties tracks range from boogie to electro, but they're all linked by judicious use of synthesizers and effects. Soon, Chicago producers were producing similar sounds on much lower budgets.
Exodus: "Together Forever (Dub)"
Charlotte Amalie, 1982
This rarity's famous and much-sampled piano line was certainly a few years ahead of its time. It starts with a great a cappella too.
Paul Simpson Connection: "Use Me Lose Me (Reprise Me)"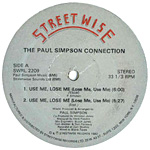 Streetwise, 1982
I was pleasantly surprised by this mix, especially since I'm not fond of the vocal version. After a lengthy piano solo and jazzy vibes, a fat bassline drops out of nowhere. Plus, the arrangement seems like a precursor to inspired by the famous North End dub "Tee's Happy."
Earl Young's Trammps: "What Happened to the Music (Dub Mix)"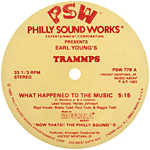 Philly Sound Works, 1983
Paul Simpson produced this reverb-happy mix, breaking down Vincent Montana, Jr.'s heavily orchestrated arrangement and turning it decidedly late-night.
Fresh Band: "Come Back Lover (Dub Mix)"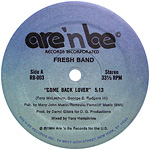 Are 'n Be Records, 1984
While the vocal is pretty catchy, this dub mix is over nine minutes of boogie groove. The horns are reminiscent of Leroy Burgess productions.
Chocolette: "It's That East Street Beat (Dub)"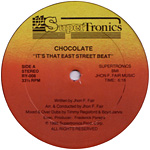 Supertronics, 1985
From the dream team of Boyd Jarvis and Timmy Regisford, this mix is sparse and deep. The drum machine patterns echo what Trax artists were doing around the same time.
Interboro Rhythm Team: "Watch The Closing Doors (Dub Version)"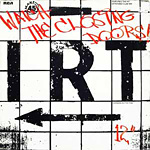 RCA Victor, 1982
Moving into electro territory, John Morales & Sergio Munzibai (aka M&M Productions) produced this tune from bubbling synthesizer arpeggios and copious handclaps. It all seems heavily inspired by Cat Stevens's "Was Dog a Doughnut" (believe it or not).
John Rocca: "I Want It to Be Real (Instrumental)"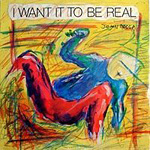 Streetwise, 1984
Arthur Baker mixed this single for Freeez's John Rocca. The synth line is excellent, though the sampled vocals sound a bit dated. Note the similarities with J.M. Silk's "Music Is the Key."
Solo: "Dub Girls (Ah-Ah-Hi)"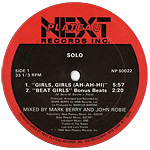 Next Plateau Records, 1984
A somewhat mysterious production by Mark Berry, "Girls, Girls" was a Ron Hardy favorite. The dub is out-of-control!
Junie Morrison: "Tease Me (Dub)"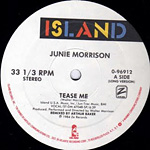 Island Records, 1984
It's another Arthur Baker remix, this time for The Ohio Players' former singer/keyboardist. Sometimes a solid breakin' beat made for great jackin' as well.
Tony Cook & The Party People: "On the Floor"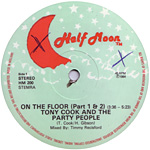 Half Moon Records, 1984
I saved the best for last. Boyd Jarvis and Timmy Regisford combined Thriller-style narration over Alessandro Novaga-alike beats. The result sounds like it was made in someone's basement. The version to find is over nine minutes long. It's the B-side on US copies, the "Special DJ Master Mix" on UK ones, or "Instr." (with a mis-labeled time) on Netherlands ones. Frankie Knuckles used to spin this, and you can hear how it must have fit in with early Chicago productions. "Don't stop us. We're not all from the Planet Rock…."