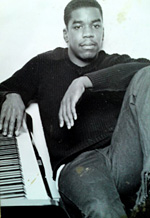 In the late nineteen-eighties, Merwyn Sanders and his childhood friend Eric Lewis recorded a series of beautiful house tracks here in Chicago. Their first two EPs were issued under the names Virgo Four and M. E. on Trax Records in the U.S., then were licensed to Radical Records in the U.K. The duo followed up with another M. E. EP on Trax and a fourth release as Ace & The Sandman on Trax subsidiary Saber Records.
More recently, Virgo Four tracks have been featured on compilations from Warp and Soul Jazz Records. In 2006, N.E.W.S. in Belgium re-issued the Virgo Four EP "Do You Know Who You Are?" as part of their Trax Classics series. I interviewed Sanders by phone last week, and discovered he's a down-to-earth guy who is still active in the local arts scene.
Jacob: Did you grow up in Chicago?
Merl: Yeah, I was born and raised here, and my partner Eric was born and raised here too. Grew up on the South Side, primarily. And we were in our own four-man band. We actually called ourselves Quadraphonics. I played drums, and Eric was on guitar. A known steppers DJ in Chicago called DJ Calvin, he was the bass player, and another friend named Edgwick, who passed away, was on guitar. So we started out really early, in grammar school, as far as music and doing our own little songs and stuff.
What year was that?
We were in sixth grade. We must have been around twelve. When we started out, I didn't even have a drum set yet. I used to play on my mom's Tupperware. But somehow I used to make that Tupperware sound so good! I learned later, too, that it was actually a lot easier to lug around once I really did get a set.
Then after that, once we got in high school, it was just me and Eric who stuck together. That's when we were able to get a drum machine, we got a Moog keyboard, and you know, all that stuff was starting to happen as far as music…. That was '80 or so, '81. We just started doing a bunch of music at home. At that time we got a 4-track. So, that's what we would do, go to school, and we would hang out and do music… and go shoot some ball, then work some more music…. We were into a lot of classic stuff, Kraftwerk and Gary Numan and a lot of jazz stuff. That's what I grew up around, listening. My dad was a huge jazz fan, so that was just engrained in my head without me even knowing it. So I guess that's what you get a little sense of with that album we did, that first one with Larry [Sherman at Trax Records].
We actually came to Larry probably '84, '85 or so, and he just wasn't interested. 'Cause I think Jesse Saunders had just hit with the first house music record, so that really got us going, got everybody else going. We actually went to State Street Records after that. Then they weren't interested either. Actually what happened is I started getting ready to go to The Art Institute—that's where I went to college. I remember we left State Street Records, went over and hung out at The Art Institute. We went to one of their sound rooms there and that's how we came up with four of the tracks on that first album. Because we came back to Larry about 1988, which is almost four years later, gave him the songs that we'd brought the first time, and then we had four more. So a total of eight or ten or something like that. At this time he was, okay, let's go, let's do it. I think it finally came out in '89.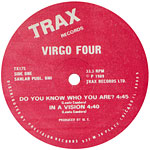 Were those the M. E. tracks on the "Ride" EP?
It was Ride and Virgo Four. All those were actually done at the same time. That's how I met Rick Barnes, who runs Rax Trax. Rick Barnes and Derek Brand who were part of Nicholas Tremulis Band here in Chicago. Most of our stuff we played live except for the drum machine. Everything else we got so used to just playing, I guess just from the repetition, we didn't use a sequencer at all. We showed up at the studio, had our keyboards, hit "Record." It's kind of like a live session with the keyboards.
Actually Lidell Townsell was there to help us produce it a little bit. So that's how I got to know him, but we ended up just doing it our own way, so he didn't stay on the project after that first set. 'Cause it would have been totally different than what you hear right now. He brought his own drum machine and everything else. We were thinking of not using the drum machine we had, but then once we got to the studio and started hearing stuff we got a little nervous and said, No, let's just stick to what we do and how we've done it at home and just played it. They're simple songs, let's just do it and knock it out. We recorded ten all in one live session. It was one song, you know, "Next," maybe a couple of passes with some other little things or a second take or two, then, "Next!"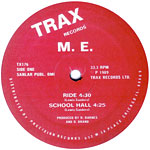 There was a big thing with calling us Virgo Four, because we really approached them saying we were "M. E.," Merle and Eric. [Larry Sherman] wanted to take half of [the tracks] and put them on "Virgo Four," and that's how the constant bickering between Larry and I started. 'Cause I argued up and down, that's not our name, that's Vince Lawrence and Adonis and Marshall, those guys…. And I think that's what he was trying to do, he was trying to have some name association 'cause he thought the tracks would need some help or something…. Eric was more like, whatever man, just put it out, and eventually he just did it anyway. Overseas, I think it ended up being on its own CD where all eight tracks were together, but here in the U.S. he split it up with four of them Virgo Four, four tracks under M. E.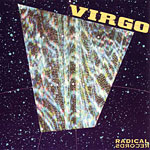 So did you know it was going to be licensed in the U.K.?
See Eric and I were so kinda, sometimes I actually kinda regret it, 'cause we were so detached from everything. We weren't hooking up with other people doing stuff, with talking with the DJs to play our stuff or do anything. We were really just about the music. As soon as that was done, we were going back and still working on new stuff. We were looking at that as just a foot in the door to do something even bigger.
We had tons of tapes. I think by the time we went to Larry we had so many tapes and so much music we just picked those to do with him…. We were constantly hanging out with Larry. We always heard a lot of people talk about how Larry was this or that, but we seemed to have a different relationship, kind of, 'cause we'd be at his house playing Nintendo or something. Telling him, here, listen to this new stuff. We just constantly had new stuff, listen to it. "Oh I can't do that, that's R&B…."
We were still playing. Eric switched to bass then and I switched to guitar, started singing more. We really weren't doing anything around the Trax stuff. And then no one was contacting us to do it, and then Larry didn't promote anything, really. The guys who are doing it now or did get performances back then, they were just good at promoting themselves. They put their name all over the record, not a name in the background. We weren't doing all of that. Nobody even knew who we were. That's why it's great and somewhat surprising when someone like you will say, "Oh yeah, I love that album," and name it, and it's just like, really? Where was everybody? We just didn't know what was going on. No clue.
We did do other things with Larry, but then that was also under other names. Ace & The Sandman, he put out, I think, two EPs under that.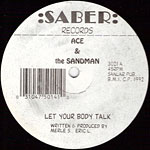 Was there one besides "Let Your Body Talk"?
I know there's another track in our catalog called "It's Hot." I don't know if that's on the flip-side; see I don't even remember anymore. [It's credited to M.E. on the 1993 compilation "Lost Trax."] That was the only time we kind of hooked up with a DJ or got cool with one, and that was primarily because he was so cool in that way, and that was Ron Hardy. Right before he passed, we brought Larry more music and Ron happened to hear this 4-track version, and so he wanted to meet and talk and say, hey, well do this to this track. 'Cause he was kinda helping Larry pick out new stuff. It didn't even have a name or anything, and he just said, "Yeah this track is hot! Just try to do this to it…" So that's why we ended up calling it "It's Hot," 'cause that was his way of describing it, and then we ended up doing another version of it. I actually liked the 4-track better.
What clubs did you go to?
Mendel Catholic High School was a big hot spot back then. But then you had The Music Box, the Power Plant, that was early on, and then Sauer's and then COD's. We were hitting the clubs, we just didn't have any hook-ups with any of them. We were just going like everybody else. Occasionally we would hear somebody play one of our tracks and be a little surprised. Other clubs that came later were Shelter, The Warehouse, or Playground, whatever it was called. Then we would go to Canada a lot, actually. In Toronto, that's where we would take the records sometimes, hit some clubs and give it to the DJs. But here we didn't do anything. Nothing was promoted or anything.
We had one record called "Winter Days & Summer Nights" that we did with a singer called Yvonne Gage that was more on the R&B flavor and he [Sherman] finally decided to do one. And WGCI got really interested, but they just didn't want to play his crackly vinyl. They were like, give us a nice, clean version of it. Put it on CD. And he goes, "Whoa, I shouldn't have to put it on CD, it's a good song, it's a good song!" So they just never played it….
What did you study at the Art Institute? Did you have formal musical training?
I was primarily focused on painting, drawing. And then I was in their fashion department for a year. Then I got out of the department and just kept with the basic studio studies, which was painting, drawing, illustration, and even some photography.
My dad was a musician. It's just in my family. So all of that came from in-house. I would play drums at church. I was a back-up drummer at church when I was growing up. The music was just always there, way before college.
What is your day job?
For the show Million Dollar Quartet, I was the lead artist on doing the set. I started doing that work right out of The Art Institute. I started working for a production company in their art department, just been doing it ever since. This particular company, we do a lot of opera sets, these huge opera sets which require a lot of sculpture-type work and painting and things like that. So that's the day job for me right now.
Had a little mural company with a partner for a while… we did a few public murals, did a lot of work with Chicago Park District. Some of them had to be removed because the city re-did certain areas, but Diversey Harbor was one big major area that we painted. Daley Bicentennial Plaza downtown, there was a big Earth Day project down there. So for a while I was doing a lot of painting and murals and production work like that and doing a lot of photography at the same time. That's what has swung me around to doing film now, 'cause it actually encompasses all those things into one thing: the sound, the music, the photography, the production work I've done.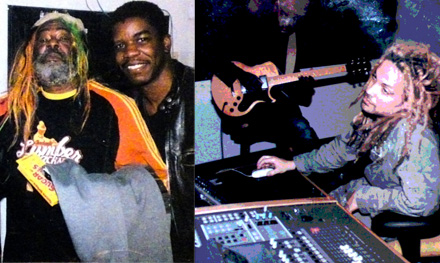 Do you still collaborate with Eric?
We still over the years, every now and then, will get together and come up with stuff. Last time I saw Eric was probably two weeks ago. He pulled up some tracks that we were messing around and doing probably a year or two ago, and he's like, "Man, you just came over here and did a cut! I mean this track is hot, man." And I don't even remember us doing it….
We have a weird connection that way where sometimes we come up with ideas separately and then get together and say, check this out, I got a great hook and then okay, he adds a good drum track or a good bassline or a good melody over the top of that and then we just build and kinda build, and off of each other back and forth. And then sometimes it just happens with us just playing together….
I remember when we first started, we were still young, we thought, well let's number our tapes and get really organized and know what songs are on what tapes. I think after tape 200 we stopped even writing it down. I don't know how many tapes there are now. If you figure 60-minute tapes, there's gotta be at least one decent song on an hour tape, plus how many tapes, there's gotta be some good songs in there. So that's what we've been doing lately, tryin' to go back through all that stuff and try to make it somewhere release-able, like getting it on iTunes or something. Somewhere, a site for it, even to just download it and check it out.