Tresor, 2005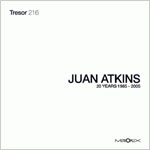 In 1980, fueled by funk and synthpop (played together on Electrifyin' Mojo's radio show), Detroit teen Juan Atkins and his friend Rick Davis formed Cybotron. In 1981 they released "Alleys of Your Mind." Electro was born. A year later the more instrumental single "Clear" heralded the arrival of techno. In 1985 Atkins left Cybotron and founded the label Metroplex. His releases as Model 500 and Inifiniti inspired countless music makers worldwide. In the early '90s Atkins visited Tresor in Berlin, collaborating with 3MB (Thomas Fehlmann and Moritz Von Oswald) for an even deeper sound.
Until now, most of Atkins' tracks were difficult to find on CD. This two-disc set offers highlights from twenty years of Metroplex, plus some of the Cybotron tracks released earlier. Finally all of these cuts are in one place (and with good sound quality)!
What can I say about such influential music? There's the gritty, catchy "Night Drive (Thru Babylon)" with a robotic voice intoning, "Time, space, transmat!" "No UFO's" has quaint lyrics, but its brutal beat can still rock a dancefloor. Of course there's Cybotron's "Clear" from 1982, still other-wordly with dramatic layers of synths. Later tracks are more minimalist, signaling the birth of the modern Detroit sound. "Starlight" sounds like a Basic Channel blueprint.
My only complaint is this compilation's scant liner notes. Some of the track names are misspelled, and there's no information about original release dates or labels. Only a brief Dan Sicko essay provides context. But make no mistake, this is an essential release—23 classic tracks selected by Atkins himself. This overview should further cement his place in music history as the godfather of techno.