EV, 2006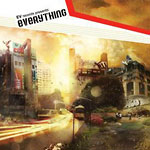 EV Records is an up-and-coming Chicago hip-hop label whose work I've covered here before. This is their first compilation, and it's exceptionally strong with contributions from Diverse, Copperpot, Modill, Longshot, K-Kruz, and One Be Low, among others.
First up on "The Mic," Royce Da 5'9, Longshot, and Profound contribute dense, creative rhymes. Earmint's samples on the chorus are a bit odd, but the beat is strong. "Vintage" with Diverse and Illogic is also fun. Says Illogic, "Rappers are simply average painters hanging next to Van Goghs. We compose prose that'll bloody your nose."
It's one strong cut after another. Ang13, one of two female MCs here, contributes a fierce rap. Copperpot's production is spot-on. Modill's "City Bus" has a jazzy bassline, and Racecar's flow is rapid per usual. Psalm One has an unusual voice and a conversational style.
British rapper Verb T delivers a calm, cool rhyme over Copperpot's thick, confident bassline. Vinyl pops underscore a sampled sixties-era chorus. Next up is "Nightshift," with smart rhymes from Detroit's Finale and Thaione Davis over a laid-back jazz track. Finally One Be Lo waxes political with Longshot over some familiar R&B-flavored elements.
This diverse compilation is more than just a label overview; it's a summary of an underground hip-hop scene. EV is becoming something of a nexus, expanding into distribution of the Gravel, Birthwrite, SGE, and Low Life labels. Everything reveals a vibrant Midwest rap community.