B12, 2008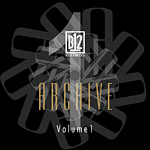 I'll admit I was never a big Electro Soma fan. With this collection, however, I finally realize what I was missing. Heard in their original context (yet skillfully remastered), the tunes from B12's Musicology and 2001 – Space Age E.P. are exciting, even after nearly two decades. Originally released in 1991 and 1992, respectively, and incredibly difficult to find since, these 12-inches are missing links in the early history of U.K. techno and IDM.
"Metropolis" is evocative of a city fly-over, with minor chords, lush percussion, and deep LFO bass. "Obsessed" has spawned countless recent imitations. Whispered vocals and moody, wonky bleeps make for a deep journey. On "Fear of Expression," mysterious samples spice up what would otherwise be a fairly straight-forward rave track. "Telefone 529" is probably best known for its Artificial Intelligence appearance, but I've always found the main sample a bit irritating.
"Space Age" is an odd one, with panning breaths and beats that start and stop. "Rings of Saturn" focuses on bass and percussion. "Future Bass Seven" is warm, with chunky parallel synth lines and strange female sighs. "Weightless Condition" is equally enveloping, if a bit nondescript.
The bonus tracks, recorded at the same time as the original material, are decent. "Eiyla" is slow, atmospheric, and very alien. "Colloid" features roving, bouncy electronics. B12 intends to continue re-issuing their legendary label's output over seven volumes, but with each of the two discs in this volume containing a mere 35 minutes of music, purchasing a digital version may be your best bet.