Mahogani Music, 2009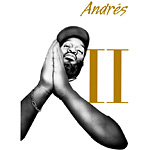 I'm not sure describing Andrés as a mix between Moodymann and Flying Lotus does him justice. One thing is certain, he's part of a new wave of producers finding a unique voice through soulful samples.
This is only his second album, but it has been six years in the making. "Physical Bush" and "Step Pattern" are short, catchy hip-hop instrumentals. The latter has great electric bass and congas. "Change My Mind" and "Sing About It" are both at more traditional house tempos. On "Sing About It" Tracy Vox sings over samples, and KDJ murmurs and when the volume drops. It's incredibly funky, but, alas, it clocks in at a mere two and a half minutes.
"That's What It Is!" kicks off the B-side with a chunky downtempo beat. "Learn to Love" is nearly pop in intent, with seductive vocals courtesy of Monica Blaire. DJ Minx provides a couple of interludes. "Walk on Through" is a funky polka with horn and organ stabs and off-kilter samples in different keys.
With a total length of twenty-three minutes, this seems less like an album than a showcase of production skills. Still, it's so unbelievably creative and fun, I know I'll be listening to it over and over.