AW-Recordings, 2008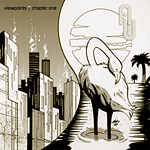 This first compilation on Arne Weinberg's label is a wonderful introduction to overlooked artists crafting techno in the Detroit style. San Diego's Louis Haiman kicks off the collection with a real mind-bender. Synth squelches and clattering beats pan so expertly they seem to move up and down through the listening space. I'm not surprised to see Haiman on a Transmat compilation from 1999, according to Discogs. CRC's "Archon" builds slowly, but the batty synths at the end remind me of Fade to Black's "The Calling." Think 1990. Stephen Brown, another Transmat favorite, contributes "Light Rain," with tasty analogue synth tones over a heavy kickdrum.
Next up is "Multipole Vector" by Time Light Curve, a new Convextion alias. Dry snares provide a grid which is gradually filled with warm bass synths, glitchy squawks, and ghostly voices. A bittersweet tune ties everything together. Myon's "Odyssey Red" is cinematic, with seven minutes of sad, sweeping melody over old-school beats. "Soleil" by Detroit's Strand makes exceptional use of piano over crisp percussion and complex bleeps.
Moving inevitably into dub techno territory, Ovatow's "Visitation V4" pulls together odd sounds which never truly gel. I can't decide if it's missing pieces or just strangely mastered. East Island's "The Master of Servir" is more successful, with unique tones dreamily circling lo-fi beats. "C.O.N." by XDB is the best of the bunch, infusing a driving tempo with dub depths. Cascading reverb speeds about like lightning in some mad scientist's lab. Back to more traditional Detroit techno, another favorite is Obsolete Music Technology's "Evening Star." From its opening chords, it pulls me into a warm, beautiful place. Every single tone is a pleasure to hear.
This compilation proves old production techniques can still result in beautiful tracks. None of these cuts would seem out of place on a compilation of early nineties techno. These artists remind me of a time when technology seemed exciting and empowering instead of just overwhelming.