Huume, 2006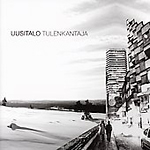 Uusitalo is Vladislav Delay and Tulenkantaja is the second release under this name, the follow-up to 2000's Vapaa Muurari. The title translates as "flame bearer" and is taken from the name of a radical Finnish literature group to which his grandmother belonged in the early forties. In fact, each track is a tribute to Finnish literature and to his author father and grandmother. Kaisa Kemikoski's cover art is a beautifully realized Ballardian disaster zone where bleached black and white skyscrapers and nighttime traffic nestle next to snow-drowned beaches. This adds something of a mechanical fairy tale feeling to the proceedings, something equally acknowledged audibly. Short fragments of his family's words decorate the interior landscapes.
So, what of the music? If Vladislav Delay has ever made a poor record, I've yet to hear it, and this is no exception. On first inspection, what sounds like simple but busy techno reveals itself to be a world of subtle complexity, strangely evocative and microscopically intricate. Minimal bass and melody are backgrounded against fragments of beats and pulses. Where jungle took the beat and utilized it as the mnemonic, the hook, so Delay takes the beat and spills out a detail-ridden narrative. The bass is the groove, the constant, whilst all manner of abstract wizardry is applied to the restless rhythm. Delay has traversed and probably invented genres of his own. Micro-house, dub and ambient are assimilated within these harder-edged grooves, infecting the mix, but only to the subtlest degree.
This album gives up some pleasures immediately, and to be sure, it's certainly not a difficult listen, but something tells me there's enormous longevity in these worlds. Each listen reveals a million new details like an endlessly mutating painting. You'll not want to drag your ears away for a second.