Minor7Flat5, 2006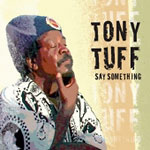 Tuff is a seasoned reggae vocalist. He sang with The African Brothers alongside Sugar Minott in the seventies, then worked with some legendary producers including Yabby You. In the eighties he went dancehall, joining the Volcano sound system and cutting singles for Studio One. Just a couple of months ago Jah Shaka released a collaboration with Tuff called How Long. Now Say Something, produced by Rootsman and featuring Firehouse Crew, is as smooth as they come.
"Fulfillment Time" sounds cheery, but Tuff's message is apocalyptic. Smokie Benz deejays, "Has the world gone crazy?" "Boom Shakatak" is light, cool calypso. The title track is roots with sumptuous production including horns and backup singers. "Walk and Talk" is the most dubby track with reverb and a great bouncy riddim.
"The Work" and "Action" are both extremely catchy. "Real" has a fierce digital bassline. Some tracks have simple lyrics ("Do Me," "Nice and Lovely," and "Just a Minute"). Nonetheless, this is an enjoyable album. It's more poppy than deep. In many ways, it's the perfect companion to Rob Symeonn's The Chosen One from earlier this month.