Collision: Cause Of Chapter 3, 2005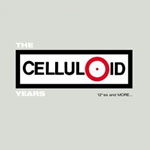 Hip-hop may have started on the streets, but by the mid-eighties it was embraced by the avant-garde as well. It was around this time that Parisian Jean Karakos founded Celluloid Records in New York, allowing Bill Laswell to produce a slew of influential electro records with connections to punk, jazz, and reggae. Some of these tracks are truly dated—more historical documents than anything, but many still sound fresh. This double-disc compilation offers plenty of 12-inch and dub mixes that have never before appeared on CD.
First up are "The Escapades of Futura 2000." The Clash provide a wicked bassline while graffiti pioneer Futura 2000 tries to stay on beat. Fab 5 Freddy makes a guest appearance, then Futura gives shout-outs to Basquiat and Keith Haring, among others. The production is unusual, with megaphone vocals, dub reverb, and the emergence of synths at the end. Another highlight is "The Wildstyle" by Time Zone, an early Afrika Bambaataa production. Over ubiquitous Chic "Good Times" samples and apparent radio clips, Motivator, Amad Henderson, and B-Side rap, with B-Side switching to French at the end. Also included is the "Special New Mix" by François Kevorkian and Paul "Groucho" Smykle, with abrupt edits and an amazing break at the very end.
Hip-hop's sudden popularity led to some strange collaborations. Rap pioneers The Last Poets lay their positive message over a synthesizer-heavy groove on "Get Movin'." The Last Poets' Lightnin' Rod and Jimi Hendrix team up for the funny, bluesy "Doriella du Fontaine." It's so unusual it almost seems out of place.
Fab 5 Freddy and B-side's "Change the Beat" is best known as the source for the famous "This stuff is reaaally fresh!" sample, but the entire track is solid with a huge bassline and lots of vocoder. B-Side's rapping (in French) is enhanced by reggae toasting and electro synths. Likewise, "Mean Machine" by D.ST. & Jalaludin M. Nuriddin provided M/A/R/R/S with a sample for "Pump Up the Volume," but is itself a wild electro track with stuttering vocoder and paranoid lyrics.
This is the first time I've heard the nearly eight-minute 12-inch versions of D.ST.'s "Megamix II: Why Is It Fresh?" and "Crazy Cuts," two early cut-up tracks. Another memorable moment is D.ST.'s "The Home of Hip Hop." Electric guitar, scratching, and vocoder make for an unusual combination. (KRS-One wasn't the first to argue for Bronx's place in hip-hop history.) Finally, Time Zone's "World Destruction" combines Reagan-related samples with cowbell, synths, and a punishing beat. Afrika Bambaataa and John Lydon (aka Johnny Rotten) both contribute vocals! I believe the version featured here is Bill Laswell's "Industrial Remix."
While a few tracks will have you hitting the skip button, this collection provides a fabulous overview of an often overlooked area of early hip-hop. There was a time when the lines between hip-hop and rock were blurry, and this cross-pollination of ideas still reverberates today.