Hour House Is Your Rush Records, 2010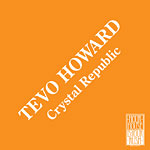 Tevo Howard's music is still a bit rough around the edges. Sometimes that works to his advantage, as on last year's "About Fourteen," a haunting collaboration with his father, or on "Everyday House Music" which grew on me so much it topped my year-end list. This EP will probably grow on me as well, but a few listens into it, I feel like a limited sound palette is holding Howard back.
The title track starts with a fast acid bassline. Understated strings form a sweet, simple melody. The sounds are pure, if a bit too clean. "Laboratory" is a mirror image of "Crystal Republic," with the bassline coming in at the end. The melody is a little fuller and a little darker. I keep coming back to it.
"The Glass Ceiling" progresses slowly, with long chords and tense bass. Glimmering treble synths appear at the last second. On "Material," beats walk up and down, then bells and 303 echo like a Steve Reich loop which miraculously stays in sync. Both versions of "Data" have a higher, looser 303 line over gated kicks and the occasional chomp of snares. As with all of these tracks, the breaks stretch on and on.
On one hand, it's cool that Howard is able to make a six-track EP with just a handful of sounds. On the other, I find myself yearning for deeper bass and more complicated beats. The tracks are so similar, I find it hard to recognize them individually. I realize Howard's laying the groundwork. I'm just ready for him to add a new twist.