Statler & Waldorf, 2004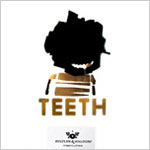 This compilation from Dec. is reminiscent of ~scape's Staedtizism series. Both feature exclusive European downtempo electronica inspired by hip-hop and dub. Aries kicks things off with "Globus," featuring the laid-back vocals of Ane Trolle. Squelchy scratches sugar-coat the end over pulsing bass and muted beats, setting the perfect tone for what's to come. System's "JO!" is a dubby, melodic track with rolling bass and bell-like synths. It reminds me of Macro Dub Infection from years back. Another highlight is Viktor Sjöberg's "Feeling Like Loving Makes," with sampled flute and keyboard licks and the occasional vocal whisper over a familiar hip-hop break. I wish this one was a little longer. "Fashion" by Pellarin features muffled poetry by Sage Francis and unspecified production help from Mr. Dibbs. The beats are reminiscent of old DJ Vadim. Knaster's "I Make Women Cry" is another modern electronic dub, with chopped-up vocals in the mix. Again I wouldn't mind a longer version.
The second half of the collection hides deeper cuts. Knaster's "There He Was, In All His Glory" starts typically dubby with lots of reverb before breaking down with vinyl sounds and noisy drilled samples. "Thule" by Bichi is a nice combination of complex beats, a deep, melodic bassline, and stuttered laughing. Finally, Antichristian's "Ritm" is a brutal, glitchy track with pulses of deep bass and scattered clicks and beeps. Teeth is chock-full of goodies. If it's a sign of what's to come on S&W, I'm game!