Uchelfa, 2006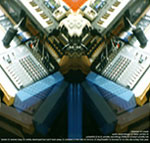 An ominous growl and fragments of interrupted digital phrases open this eerie long player that is as thoughtfully poignant as it is unnerving. This is Coil's fireside glitch relocated through urbanity and extreme noise; if these are ghosts, spirits of the future are wandering our city streets tonight.
Comprised of seven tracks, this mini LP carves out its own unique and uncanny territory. "Visibly Destroyed but Can't Look Away" is shot through with a gorgeously searing, ecstatically heartbreaking synth line, its lulls letting more cryptic fragments of sound in. "Violated in the Hall of Mirrors" is aptly lost within its own reflections as disconcerting carnival-like chords bounce around, endlessly shifting but seemingly not moving. Eventually the drones reach a thunderous rumble and collapse into the abandoned waves and radioactive drift of "Ebychia64." Crasis ends on a more hopeful note with the wide-eyed children's melody of "No One Ate Turkey That Year."
Weird histories seemingly haunt this technology. This is only the third release for the Manchester (UK)-based duo, and one can only hope that there is plenty more to come. This is strangely addictive and highly evocative—creepy and warm at the same time. Outstanding and far out there.