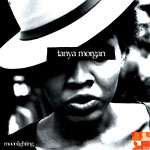 http://charlotteskitchendiary.com/2012/06/24/my-new-project/?replytocom=329 Tanya Morgan is a rap group posing as a soul singer. Von Pea teams up with the duo Ilwill (Ilyas and Donwill) for a wild hip-hop ride. On the intro, a wily record store owner tricks a rap hater into buying a Tanya Morgan tape. "The Warm Up" allows these three MCs to really introduce themselves over a jazzy bassline, looped guitar and horns. It's a sweet way to start. "Paper Thin" featuring Jermiside is one of my favorite tracks, with simple electronics that remind me of Zion I and copious MC Lyte samples. "We Be" is the latest single, with torturously pitch-shifted soul clips. The flow is super stylized: "You know I'm hot for Tanya/and I/can't stand most of the stanzas/that I/I hear littering the airwaves…" with some product placement: "All I really wanna do is get a chick from MySpace/to freak off on the first date like Blind Date."
http://charlotteskitchendiary.com/my-books/ "Take the L (Get It)," another single, has a hit-you-over-the-head hook over a weird marching beat and shrill electronic wind. It doesn't work for me, but it's certainly a trip. "Ode to Tanya" is hilarious, with each MC dissing the others in an effort to seduce the imaginary Ms. Morgan. Says Von Pea, "I know we in a group and all but I'm just stating a fact/I ghost-wrote this whole album via email or fax." Later he claims Don is a player and Ill has "bad feet"!
On another hilarious skit, the Tanya tape bearer calls over another guy, saying, "you're kind of dorky… you look like you watch all that anime-type shit." Says the other guy in a timid voice, "I like Pokémon, are you making fun of me?" and later, "I'm into like the Def Jux kind of stuff."
http://charlotteskitchendiary.com/category/recipes/breakfast-recipes/ If anything, there are too many styles on display here. There's the obligatory reggae track ("Just Cause I Got Locks"), a growling bass-heavy battle cut ("Rough U Up"), and a strange love song combining BBD's "Poison" with Roy Orbison's "Pretty Woman." These guys are at their best when they go deep. On "Hooks," creative rhymes and production really come together. Piano snippets and vinyl crackles bump into bass. Von Pea throws down the gauntlet: "Everybody's got hundreds of bad tracks…. You write for weeks and can't hang with my type of speech." This album's a real eye opener. I can't wait to hear what this group does next!