Metatronix, 2007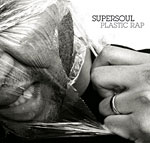 It's hard to believe it's been five years since Supersoul's last album. 40 Acres and a Moog was a refreshing mix of hip-hop and dub instrumentals. Plastic Rap features more guest vocalists, but it doesn't fall prey to lazy producing. On "The Good Die Young," Shadow Huntaz claim, "We bad enough to stay alive," over a smooth trumpet line. For the single "45," Judah Manson (aka Diamond Ice) and Sess rap and sing respectively about gun violence. On "Arrogant" Dynas' singsong style seems a bit dated, but Supersoul matches it perfectly with his production.
"More Power" featuring Anthony B and Dejah is a mix of reggae and rap with a big kickdrum. On "Think It Through" Induce scratches, "My gunshots will make 'em levitate," over a jazzy bassline. Sweet. Cyne contribute smooth sci-fi rhymes to "Satellites." Violin on the chorus adds an otherworldly feel. "The Beginning Of The End" features scratching by Infamous and tag-team rapping by Akiladahun, O Slick, and Shadow Huntaz over keyboard and snipped snares. Nongenetic's gritty, metaphor-packed rap works perfectly with the broken beats of "Fall Back."
Supersoul is Metatronix founder Omar Clemetson. He's based in Miami, which is a nexus of sorts for electronics-based hip-hop. While Metatronix is a very small label, the quality of its releases is excellent. I hope digital distribution gives it the wider exposure it deserves.