Moll-Selekta, 2006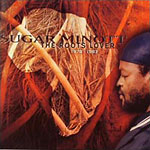 This is the first compilation to focus on the extended 12-inch versions of Minott's singles (similar to Moll-Selekta's excellent Mike Brooks collection). In most cases, that means a 7-inch vocal spliced with a dub. Basic Channel's von Oswald provides "remastering and restoration," on two discs of deep roots reggae.
On "Dance Hall Style," Minott's sweet voice is echoed and equalized, becoming part of a bubbly riddim complete with electronic bleeps and reverbed smacks. "Hold On" stands out, with Minott's moving vocals gliding over a minimal bassline and a remarkably speedy beat. The dub half features pronounced studio trickery with beats and vocals dissolving into space. "Three Wise Men" is also wonderfully heavy on reverb.
A couple of other artists appear here. Ranking Dread deejays (toasts) on "Superstar," and Yabby You sings "Thirty Pieces of Silver." (Check out Blood and Fire's double-disc Jesus Dread 1972-1977 for the ultimate Yabby You collection.)
It seems that most if not all of these singles were originally released on Minott's own Black Roots label. While the liner notes feature an extensive Minott bio, I would have appreciated more detailed information about each track. Thankfully, that's my only complaint. This really is an exceptional collection.