Warp Records, 2008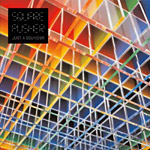 With his twelfth album, Tom Jenkinson takes an even further departure from his staple Squarepusher sound of broken beats atop slapped bass and twisted triggers of the Amen Break. Warp's own store, Warpmart, categorizes the album as "Drum and Bass / Breakcore / Electronica", but I assure you, nothing could be further from the truth! (Kind of misleading, actually.) Just a Souvenir is more in the realms of experimental rock and future jazz, with a touch of electronic treatment and a few very tasteful drills. Jenkinson continues evolving (as a true musician should) in his experimentation with abstract accompaniment of acoustic instruments (mostly his custom-built 6 string bass guitar once again) and drums that effortlessly morph between organic and digital.
With Just a Souvenir, Jenkinson introduces an element of early garage rock, with vocoder and all, and reminds us once again of his amazing instrumentalist skills. First thing's first—I like it! And after only a few listens, the melodies come back to haunt me, a true sign that I will return to the album. Just a Souvenir opens up with a track titled "Star Time 2," (makes you wonder about its first part) with a fun, funky synth/clavichord melody and light beats. From then on Squarepusher moves into improvisational, jazzy and affected bass slaps over barely comprehensible vocoder blurbs. All of it is truly of psychedelic nature with sparking notes in a kaleidoscope of white, red, green, blue and yellow.
On his site, Jenkinson explains that, "This album started as a daydream about watching a crazy, beautiful rock band play an ultra-gig." He then goes to describe his fluorescent trip, which included an Eskimo on the drums and a classical guitar player that could speed up and slow down time in his vicinity. I recommend you read up on on Tom's blurred delirium before embarking on this trip. Then bathe yourself in this album which is the interpretation of Jenkinson's memory of the daydream, which he held on to as a souvenir. Running at (only) 45 minutes, Just a Souvenir picks up where Hello Everything left off, becoming more organic with every track. If that sounds like your cup of tea, then you'll enjoy this rubber band trip through time. Just a Souvenir hits the streets on October 27, and is currently available as a digital download (MP3 or FLAC) from Bleep.
(Co-published on Headphone Commute.)