Getting Older, Loving Techno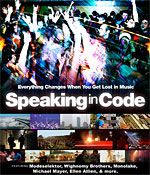 Speaking in Code feels like two separate documentaries. Documentary one is a gorgeously shot slice of life with two German techno duos: Modeselektor and The Wighnomy Brothers. Documentary two is an incomplete profile of Boston DJ and promoter David Day, who was (at the time of filming) director Amy Grill's husband.
I most enjoyed the parts of this film that focused on the artists. It seems Grill was too close to her subject to portray Day coherently. We're never told the most basic biographical details. Where was Day born? What got him interested in music in the first place? What does he like about the artists showcased here? When Day enthuses about these acts, he seems most excited about their potential to "make it big."
In voiceovers, Grill blames Day's quixotic pursuit of local celebrity for breaking up their marriage, but again the details are sketchy. It's never clear whether the couple is driven into debt by techno tourism or by the cost of shooting the film itself. Why does Day's music space cease operation? Why does he quit his day job at Forced Exposure? What year is it? Too many points are left unexplained.
Other reviewers have pointed out the irony of showcasing mostly German artists while complaining that U.S. music fans view techno as un-American. Day may actually support local artists and DJs, but again, the documentary fails to flesh out that part of his life.
While it raised a lot of questions for me, the film is well-shot and well-edited. I appreciated the club footage and much of the music. Some of the scenes with Day felt staged (like when he jumped out of bed fully dressed) but I think that's par for the course for documentaries in this style. Unfortunately, Grill treats critics as characters rather than narrators. She is often unable to articulate what she likes about the music being shown.
I wish this film had addressed the experience of loving techno in an "electro" world. Dance music in America is actually in the midst of a revival, thanks to artists like Deadmau5 and Justice. The problem isn't that Americans don't like electronic music, it's that older music fans like David Day and me have been left behind by current trends. Listeners who remember when Wolfgang Voigt's first records came out have become a niche like die-hard jazz fans. Does that have to be a bad thing?
I hope Speaking in Code starts a conversation about what it means to be an older dance music fan. As an exhausted Tobias Thomas or a lonely Philip Sherburne demonstrate, moving to Europe is not necessarily the answer. In fact, the happiest people in this documentary are the ones who started their own record labels coupled with their own record stores—musicians who gathered together a group of like-minded friends in their home town. I hope Day's latest project, a New England electronic music festival called Together, is a sign he's come to the same conclusion.