Ai, 2007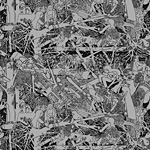 More broken-heart analog abounds in Sinner DC's remix EP, Montage. If their Mount Age album wasn't what hooked you and you don't know some of the artists remixing the songs because you're not into the Swiss electronic scene, then maybe, just maybe, Geoff McFetridge's fucked up cover-art is what will catch your attention.
Six of the eleven songs off the original album are remixed in the EP and the tightest tracks are remixes of the same song, which is the first track off the album, "Everything Is Sand." The first remix of the track by Sonic Boom is spaced way out—completely lacking any percussion (and almost any hint of the original song for that matter) except for a randomly inserted morse code signal, which only cements the song's feeling of hopelessly floating up in the reverbed out psychedelic cosmos. Dave Apple's remix is nowhere close to resembling Sonic Boom's, or the original track itself. Instead Apple just plugs in a catchy hip-hop beat, kind of keeps the bassline, and adds pop bleep happy landscape to a song which originally made you feel like haunting some bleak city waste dump. Don't be surprised if you're driving in your car listing to Apple's remix and find yourself freestyling.
The rest of the tracks on the EP are catchy, and for the most part don't make you feel like you wasted loot or memory by getting the same song again. Everyone keeps the analog despondency (which Sinner DC seems to really have put time into), and adds some idiosyncratic flashy flash without going too overboard.