Music Man Records, 2012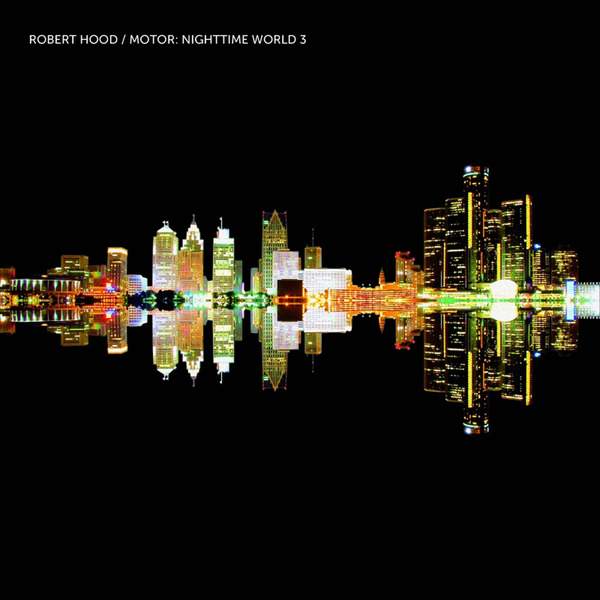 Robert Hood reinforces his mastery of techno's outer reaches on this third volume of Nighttime World, some seventeen years after the first one. Albums like this reveal the futility of pigeonholing records. The tracks here range widely in tempo and style, but they all retain the nuance and musicality of Detroit techno at its best.
"The Exodos" sets the tone with cool strings and sci-fi phaser blasts. Tight snares and twinkling treble make appearances, yet the track remains lulling. Surprisingly, considering its title, "Motor City" is set to a house tempo and based on a 303 squelch. The percussion is intricate, and a dark, funky piano line eventually joins to great effect. "Better Life" is, for lack of a better term, "intelligent." Sophisticated synthesizer work builds to an arpeggiated apex. The bass is simply monumental.
"The Wheel" is sparse yet erotic. Grunts and bass pulses give way to languid piano chords. "Black Technician" is the first track with a traditional, heavy kick drum, yet it brims with life. Chimes and hiccups dance as static bursts joyfully. Snares hit right above the listener's head. It's as if Hood is embracing the crowd.
As difficult as it is to follow "Black Technician," "Learning" admirably attempts to top it, with sweeping strings and organic electronic burbles. Lush synthesizers and complex percussion harken back to the Artificial Intelligence compilations.
The rapid, mid-octave bassline on "Drive (The Age of Automation)" is straight out of the eighties, while "Torque One" is deep and clubby. Out of all of the tracks on the album, these two seem the most simple. "Hate Transmissions" is early nineties-style minimal acid. Screams punctuate a series of carefully constructed breaks as the track changes subtly over ten minutes.
Slow, tinny air raid sirens provide a surprisingly effective backdrop for a ballad on "Slow Motion Katrina." The bass-heavy beat is almost hip-hop, while the piano melody verges on classical. "Assembly" crunches along with filtered chord washes and a heavily processed vocal snippet. "A Time to Rebuild" is tightly packed with huge bass, jittery handclaps, and an organ call to action. Notes bend heavenward.
Hood continues to explore the apocalyptic themes we discussed in 2010, but this feels like a much more optimistic album than Omega. Motor emanates strength.