Still Music, 2011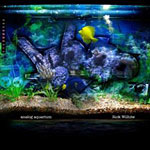 I've been waiting to review this album, hoping Wilhite's first full-length would grow on me. His excellent Vibes compilation was one of my favorite releases last year, showcasing a variety of producers from both Chicago and Detroit. By contrast, Analog Aquarium is very focused. These are all chilled-out, lo-fi, soulful house tracks. One would think they would be right up my alley, but I'm just not hearing anything new here.
"Blame It on the Boogie" could well be a live recording, since Billy Love makes several false starts. Theo Parrish and Osunlade share credit. From the distorted levels and EQ tweaks, I would guess Parrish was on the mixer. Love is all over the place, singing loosely about a party while the music loops.
"Dark Walking," a long instrumental groove, is more my style. Chords hold over changing beats and roaming bass. I could do without the bursting sampled vocals, though.
Both parts of "Muzic Gonna Save The World" with Billy Love and Sondra "Sunny B" Biar are just plain weird. Again, the beats sound clipped. Love and Biar seem, shall we say, relaxed. To truly appreciate the recording, you probably would have had to be there when it was made.
A fast tempo and a trippy bassline make "Sunshine Pt.2" more palatable. "City Bar" should sound familiar if you own the Abstract Fusion 2 compilation on Track Mode/Music Is. (And you really ought to.) "Deep Horizons," with Calvin Morgan, is almost easy-listening in its apparent simplicity. On "In the Rain," Billy Love is back again, jazzily improvising over a sample of The Trammps. He sings, "I wanna go outside to play-ay in the rain/I just want to play in/Let me chase my girl/Let me have some fun/There's gonna be some barbecue/Let me rub-a-dub-dub."
"Cosmic Jungle" is another old compilation track, this time from Still Music's In The Dark (The Soul of Detroit), which is also worth tracking down. There it was credited as a collaboration with Sherard Ingram. It is a dark, gritty thing, with industrial hisses and clanks over square, tracky bass. Its companion, "Cosmic Soup," is even more stripped down. Kicks thump unceasingly while a single note rattles.
This album isn't without its moments. I'm sure there are even certain nights it would hit the spot. With its mix of old and new material, and its varying sound quality, it's just too rough around the edges for frequent play.